Happenings of interest around the Uechi World. . . .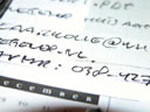 I am constantly amazed at how many people still have difficulty navigating the Internet. Naturally I'm comfortable with our website. . . after all, I designed and created it!

However, I get at least one or two email a day from frustrated loyal followers of the site, who can't figure out how to navigate the table of contents in the left frame.
Others, fearful of clicking the wrong link and destroying their computer or worse, our web site, will avoid all links, hoping that by "refreshing" the screen many times, that different pages will eventually pop up.
Still others, register for the Uechi-ryu site (this one) then expect to be able to post on the forums. Actually, this is not a dumb assumption; After all, both sites are run by me and share the same server. But for various reasons, I elected to keep these two sites separate and therefore if you wish to unlock a number of interesting areas here, you must register where indicated in the left frame. (By the way, I finally had a little time and was able to find just about all of the "lost" links in the archives, articles and other sites. These are only available to registered members of this site.)
Since I don't often have time to "explore" the site, if any of you come across a missing link, a typo or other error, please feel free to contact me.
Now… Whats happening in the Uechi world that you should be interested in:
Hopefully you will all be joining me at this year's SummerFest. It will be held July 27-29th at the Mass Maritime Academy. The application was just posted. You can print it out right now, fill it out and send it in with your payment. SummerFest is "THE" Martial Art Festival! Please plan to attend. You will (I promise) have a great time – meet lots of fantastic and friendly people and you will learn lot about many Uechi-compatible martial art systems.