Lewis C. (Rad) Smith III, Nidan,
Rad Smith
---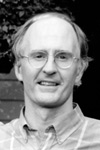 Rad Smith is a nidan (second degree black belt) in Uechi Ryu, a traditional Chinese-Okinawan martial art. He achieved his rank while studying under George Mattson (presently 9th degree) in the latter 1960s/early 1970s when true, traditional karate was still a rare phenomenon. Rad moved to Charlottesville in 1973 to study in the graduate English department at the University of Virginia. In January of 1974 he started a karate club there. He left the University of Virginia in 1975 to pursue his
studies in graduate business at Harvard. The karate club seed that Rad planted in 1974 grew and prospered. Since it's inception, several thousand students have received instruction from the Uechi Ryu Karate Club at UVa. Already there are "spin off" schools from Atlanta Georgia to Regensburg Germany. One of the students from his original class of spring 1974 has achieved the rank of master (renshi rokudan). All of the students from this original seed Rad planted understand the significance of his contribution.
To many of you, these are just words on a screen. To me, the grim reaper has cheated many people of the pleasure of a rare man and a dear friend. The cancer he died from was a senseless, random occurence. It affirms my belief that there doesn't need to be a good reason for all events around us. Life is, and we all carry on. And I, a grown man, proudly shed tears in his memory.
---
My dear Students, Collegues and Friends:
Rad Smith, the original Uechi-ryu Karate-do instructor of my instructor, Bill Glasheen, passed away on 7 December 1998. Less than 50 years old, he was diagnosed with lung cancer in June, and had been fighting the disease ever since. Though he did not directly teach me or you, much of your Uechi-ryu development has, nevertheless, been directly influenced by his decision to open up the original University of Virginia (UVa.) Uechi-ryu Karate-do club in 1974 and by the informal, non-authoritarian style of teaching he established at UVa. during the first two years.
It's hard for me to underestimate the effect Rad's decision to open up the school at UVa has had on my life. My 20-year practice of Uechi-ryu Karate-do has had a key influence in determining how I approach life today. I met my wife Erica through Uechi-Ryu, with whom I have built a family complete with four wonderful "monsters". Quite simply, had Rad not chosen to start a club at UVa in 1974, I would have been a different person leading a different life.
Bruce Hirabayashi
---
It is with profound regret that I learn of the passing of Rad Smith . His pioneering spirit and devotion to an ideal , won the admiration of all with whom he came in contact with .
May I personally , extend to Rena my deepest and sincerest sympathy !
" The air is full of farewells to the dying and mournings for the dead " -Longfellow–
Van Canna
---
The Uechi world suffered a heartwrenching loss with the passing of Sensei Rad Smith. Rad and his two children were active in our Newton Dojo until a couple of years ago. Rad decided to retire early from the business world, his reasons were primarily so he could devote more time to his family and personal interests. Even though he was in excellent health and superb condition, he contracted cancer and after a short battle, lost his life to this insidious disease.
Our hearts and prayers go out to Rena and the children in their time of grief.
George E. Mattson
---
I had the great fortune to study Uechi Ryu with Rad Smith during his time at the University of Virginia. Rad was one of a small handful of people who truly and profoundly impacted me and changed the course of my life. He was a man of great skill, honor, and dignity. Rad taught me that I could achieve great things through hard work and dedication, that I could be better than I was, and that the things of greatest value in my life would be those things which I worked hardest to achieve. He broadened my vision of life and of myself. Thank you, Rad.
John Vidumsky