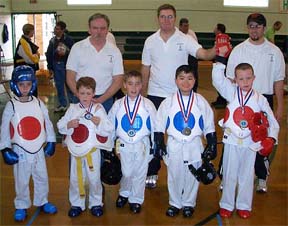 Hi to all Uechi-ryu students and teachers:
Hope all is well and your training strong.  Just a quick note to inform you of our 2011 Uechi-Ryu Karate Championship Series.  We had a great time last year and we hope to improve this year.  We've done much to insure fairness and consideration to all competing.  Please download our application from the attachment above.  If you would prefer, please write me back with your dojo name and address and I will mail you a poster and the amount of applications needed.
This is one event where all different association are welcome and come together as one united Uechi Family.  All 3 of the promoters are of different organizations but encourage the same goal of unity.  Those with misguided, elitist attitudes and false claims of superiority has not been invited.