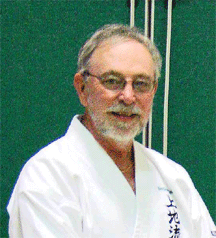 I receive quite a few e-mail from friends who discover broken links in the "Uechi-ryu.com" website.
About three years ago IUKF hired a web administrator who took on the project of "modernizing" the site, which has been evolving from a primitive "FrontPage" format back in the early 90s, to the state-of-the-art "WordPress" which we are now using.
The site has been hosted on a number of servers and after a number of disasters, including companies that mysteriously disappeared, along with our website, the site found a permanent home where it has resided for over 15 years.
Besides reconstructing the site, our web administer was charged with organizing the massive amount of articles, pictures and features stored on the server but not included on the website.
I thought we were making good progress, but during a recent Board meeting last weekend, we discovered while reviewing the IUKF website, that sub-links would not work using touch-pad devises and a number of links pointed to wrong pages or error pages.
I often wondered why my classic Uechi-ryu Karate Do"  book, which was digitized and saved to CD last year has sold so few copies, when the actual book, long out of print was so popular and used copies continues to sell at high prices on e-Bay and Amazon. For only $39, the digital book on CD should be quite popular. Well. . . mystery solved! I clicked on the front page ad this morning and discovered that the CD book could not be found!!!! Turns out, the book's store page had never been activated. . . and therefore unavailable. . .
So, if you ever clicked on that ad and was frustrated attempting to find the book, I apologize for the time you wasted searching for the book. Susan tells me we have 50 CD ready to be shipped. Click Here and I promise you will be taken right to the CD version of "Uechi-ryu Karate Do"! Our web administrator will have the ad link fixed within the next couple days.