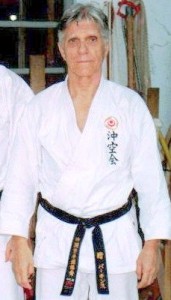 FAYETTEVILLE – Retired U.S. Army Sgt. Maj. Richard Allen Perkins, 83, of 1520 Palmer Drive, died on Wednesday, Feb. 6, 2013, in Autumn Care of Raeford. Mr. Perkins was one of the original Special Forces Decaders. He was a Vietnam veteran and he received the Silver Star, Bronze Star and Purple Heart. He is survived by his wife, Reiko Perkins of the home; daughter, Midori Wallace of Copperas Cove, Texas; and two grandchildren. A memorial service with full military honors will be held on Wednesday, Feb. 13, 2013, at noon in Sandhills State Veterans Cemetery in Spring Lake. Chaplain Roy F. Hill will officicate. Arrangements by Cape Fear Crematory of Fayetteville.
=======================================
From Jerry McDonald:
Hi George,
I received this email a few weeks ago from Joe Pavesi, who I knew for many years while living on Okinawa.  Joe is currently a Kyoshi with the OkiKuKai group and asked that I pass this on to you to include on our Memorial site.
I'm not sure if you ever met Richard Perkins but he actually started studying Uechi-ryu about the same time you did.  He served in the U.S. Army from WWII until the 1970's and had several tours on Okinawa.  After retirement from the Army he continued to visit Okinawa and he was actually the person who convinced me to study with Kiyuna Sensei after Master Uechi's passing.
Rich was also one of the "good guys".  I spent many evenings training with him at the Kitamae dojo.  Even though he was 30 years my senior I usually had a hard time keeping up with him.  He was a true warrior both in the military and in the dojo.
Please include him on our Memorial page.
Thanks,
Jerry