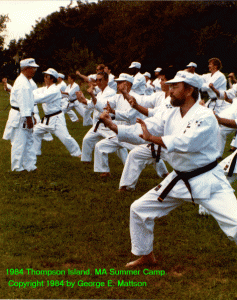 Wow. . . June already! Time to begin working on Summerfest for this year. I've been receiving lots of calls and e-mail from teachers and students who are attending and asking for more information regarding scheduling, Master Celebration and other activities.
Summerfest has been running successfully since 1983 and during this time, has evolved through a number of minor changes and locations. Our home in Plymouth, MA at the "JunglePlex" has turned out to be a perfect location and facility.
Although I receive many suggestions and requests regarding the best way to feature upwards of fifty seminars and many "presenters" within a weekend, I've found that our current method, which we have been doing for over twenty years, is the most interesting and workable way to give both our presenters and participants the most opportunities to explore the wonderful world of Uechi-ryu karate as practiced by the most innovative and traditionally minded martial artist in the world.
Over the years we have had the opportunity to be taught by respected Okinawan Uechi-ryu masters, including Grandmasters Kanei Uechi,  Kansei Uechi and Ryuko Tomoyose.
Summerfest 1984 opened up an important relationship with Mainland China and for many years presenters from China honored us by attending and teaching seminars.
Additionally, we have been honored by respected specialist in both traditional martial arts that are closely related to Uechi-ryu in techniques, mindset and self-defense methods. Many of martial art superstars like Roy Bedard, Rory Miller, Darin Yee, Van Canna, Art Rabesa, Buzz Durkin, Jim Maloney, John Spencer, Bob Bethoney, Robb Buckland, Raffi Derdarian, Henry Thom, Bill Glasheen, Bruce Witherell, John Hassell, Peter Blackman, Victor Swinimer and new/er presenters like John Hwee, Tracy Rose and many others, have attended and taught at many Summerfests.
This year we are expecting many participants and a couple of new presenters from Canada.As we get photos and seminar information I will be posting them here and in the Summerfest website.
Please register early and talk up Summerfest at your dojo. We would like 2015 to be the biggest and best Summerfest ever. .
best,

.