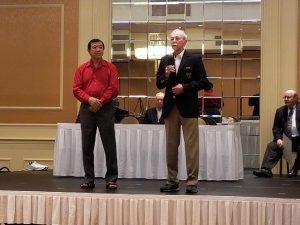 I want to thank Sensei George Mattson for his trust in me to carry on the IUKF as president. Along with this position comes a huge responsibility involving fairness, compassion and understanding while keeping in mind our enormous affiliations throughout the world. We must also maintain our insistence to all rules and guidelines with no exceptions.
Every effort will be utilized to grow and to advance the IUKF. As expected small changes will be announced. Please follow our posting on our website.
I appreciate all the well wishes I've received and look forwards to working with all our dedicated members.
I would also like to announce the IUKF is an official 501-C3 organization which means we are a non-profit organization and all funds forwarded to the IUKF could be tax deductible.
As President, I have been a businessman owning and operating businesses for over 30 years. Our Secretary Mario Rizzo is an attorney at Law who will address all our legal issues. Andrew Fink is a CPA with an abundance of experience dealing with the IRS and well versed with "non-profits".
The IUKF thanks you for your support through the past years. We hope to maintain our relationship as the torch is passed and continue to help grow and improve the legacy of Sensei George Mattson our Grandmaster.
Darin Yee