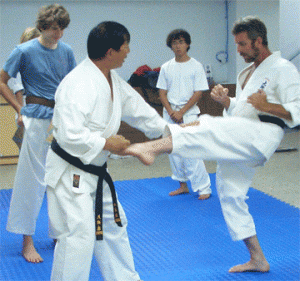 Hello Brother and Sisters,
The December 1 date is closing in fast and Sensei Pat Saunders is trying to get a head count on the participants in our invitational work outs.  Sensei Pat's dojo can accommodate approximately 30 people.  With the head count we have now we will possibly need another venue as our count has exceeded 30.  What Sensei Pat will seek is a venue large enough to handle what we will need.  Only way to do that is for us to commit and inform either Pat Sensei (kodora0317@aol.com), Christian Sensei (whitemountainkarate@gmail.com) or myself (darinyee@hotmail.com).
This will be a great workout with a bunch of great people.  After our workout, Sensei Pat will recommend a good place for use to sit in a comfortable setting eat and engage in good conversation.  Lets dress comfortable because I must admit I am a little bit of a slob.
I remember how we use to visit other dojos in the "70s".  We always had a great time meeting and working out with our brother dojos.  We've even worked out in dojos of other systems.  What a great way to understand our fellow martial artists.  That is how friendship and respect is formed.  Please reply as soon as you can so we can help Sensei Pat move ahead in her plans for our glorious workout.
Darin Yee