Greater Nowheres
Wanderings Across the Outback
Dave Finkelstein and Jack London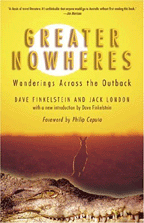 First off, let me tell you that both David Finkelstein and Jack London are lifelong friends of mine.
When I heard that they were going on an extended trip to the Australian Outback, my first thoughts were "They will kill one another!"
Picture the original "Odd couple", Felix and Oscar (Walter Matthau and Jack Lemmon), spending the better part of a year trekking through the wilds of the Australian Outback, searching for the elusive Salt Water Crocodile. (The original purpose for going on this journey). London, the "laid-back", writer with perennial writer's block, always up for a beer and tall tale, teamed up with his Birkenstock clad "Felix", fascinated by the thought of "interviewing" "Ladies of the Evening" for the purpose of discovering what "place in the future of Kalgoorlie does the whorehouse play" and, of course, to have a purely innocent "heart to heart" with the "madam" and you get some sense of a potentially volatile relationship, but an exceptionally warmhearted, winning formula for an adventure.
I don't think the book started out to be a delightful and humorous narrative starring dozens of Damon Runyon characters, each with his or her fascinating stories of adventure, hardship, love and death in the untamed Outback region; but to the benefit of the reader, this aspect of their book adds a dimension to the travelogue segments that is truly fascinating.
When I first read Greater Nowheres, back in the 80s, it was released as a hardback book. David sent me a copy which I brought with me to Okinawa and China on one of my karate trips. I really enjoyed it, as in some weird way, their experiences paralleled mine while I was touring some of the primitive "outbacks" in parts of China.
I was fully expecting to see the book shoot up the New York Times list, but for some reason it didn't get either the publicity or acclaim it deserved.
At the 2003 SummerFest, David was honored by being the recipient of Uechi-ryu karate's "master's" degree. Beside all his other accomplishments, David is an eighth degree black belt. He also was honored by Lyons Press; learning that they were going to re-release the book as paperback. True to his word, David sent me another copy, which I just completed. This time I would like to shout to the world that this book should be on everyone's must-read list.
For those of us who know Jack and David, the book offers a belly laugh with every page. For those who don't know them, you will, after a few chapters, come to know and love them while appreciating their enjoyable experiences and wincing at those times when life in the Outback reminded us all of the many faces of Mother Nature.
Get online and contact Lyonspress.com or Amazon.com and order your copy today.
George E. Mattson
Eastern Arts & Humanities Center, Inc.

GREATER NOWHERES
WANDERINGS ACROSS THE OUTBACK
"Delightful… Finkelstein and London write well. Their account is filled with engaging descriptions of beautiful, forbidding landscapes, the tough bush boys they meet and the lore of the Godforsaken town…[Their] trip is not for every traveler. But their book is."
—Chicago Tribune
"The reason to read this book is the myriad brief encounters, many of which are hilarious."
—Los Angeles Times Book Review
"…a fine volume in the literature of unpleasant but enlightened travel."
—Outside Magazine
"Always exciting, sometimes hilarious… The perfect gift for the armchair traveler."
—Travel & Leisure
"A vivid book…bound to attract attention.
—Toronto Globe and Mail
"… gives us a rare view of the bush and its extremes of weather, of distance, and of character. You'll enjoy it even if you don't get there yourself."
—New York Post
"A pleasure."
–The New York Times Book Review
Talk about classic returns. Dave Finkelstein and Jack London's immensely popular, wildly funny, and critically acclaimed book GREATER NOWHERES: WANDERINGS ACROSS THE OUTBACK, which was first published almost two decades ago, is back—this time in paperback and with a new introduction by Dave Finkelstein—to give delight to a new generation of readers. The book is a must for those with a penchant for exciting adventure tales, as well as for armchair travelers and lovers of humorous "on-the-road" stories–in this case, off-the-road, "bush-bashing" stories–here brilliantly and poignantly told by two oddly compatible traveling companions, one the Irish romantic, the other the Talmudic rationalist.
Driving a Toyota 4-wheel-drive truck and armed with snake boots, an "esky" full of beer, and an insatiable appetite for adventure, intrepid journalists Dave Finkelstein and Jack London set out into the Australian bush in pursuit of the fearsome saltwater crocodile, a huge, notoriously dangerous reptile with an equally insatiable appetite for humans. Though the "salties" prove elusive, in their travels the authors stumble upon a diverse and outrageously entertaining cast of dinki-di Australian characters—sun-hardened men and strong-willed woman–eking out an existence in the croc's hardscrabble, primordial habitat: stockmen, aborigines, "roo" hunters, bushrangers, latter-day pioneers, escapists, and outright lunatics.
In ramshackle pubs along desolate stretches of dusty track, shantytown settlements in the middle of nowhere, and million-acre cattle stations hundreds of miles from their nearest neighbors, they experience an Australia rarely seen by the average traveler: dwarf-throwing contests, cold spaghetti sandwiches, even a regional rash called "Karumba rot"—the inevitable souvenir of a visit to the forbidding Gulf of Carpentaria, with its swelteringly oppressive tropical climate. Yet, like no other observers before them, in their celebration of the Outback and its inhabitants, the authors (described by one reviewer as "at least as amusing as the extravagant characters they meet") get to the heart and fiber of the Australian soul, to the very essence of what makes Australia the unique and marvelous country it is.
As author Jim Harrison says, "GREATER NOWHERES is an absolutely wonderful book… a classic of travel literature. It's unthinkable that anyone would go to Australia without first reading this book."
Rich in the history and geography of a vast, fascinating continent, GREATER NOWHERES (Lyons Press, $14.95 Trade Paperback, April 15, 2005) is also an exploration of solitude, mateship, contemplation, and adventure.
DAVE FINKELSTEIN, a graduate of Harvard Law School, had a legal career distinguish-ed only by its brevity—one month. Fluent in Mandarin, he went on to become a Chinese interpreter for the U.S.Department of State–the first language student of his generation to qualify for that position–then the Ford Foundation's first China specialist. Now a freelance writer, he has written about political and wildlife issues throughout the world. His articles have appeared in numerous publications, including The New Yorker, New York Times, and Washington Post. A flamenco guitarist and avid fisherman, he also holds an 8th degree in Okinawan karate. He lives in New York City.
JACK LONDON'S work has appeared in Audubon, Sports Afield, the Miami Herald, and The London Observer. A former English professor, he lives in Key West, Florida.
Greater Nowheres
Wanderings Across the Outback
Dave Finkelstein and Jack London
With a new introduction by Dave Finkelstein
Foreword by Philip Caputo
$14.95 Trade Paper
$21.95 in Canada
320 Pages
5.50 X 8.5
ISBN: 1-59228-396-9
April15, 2005