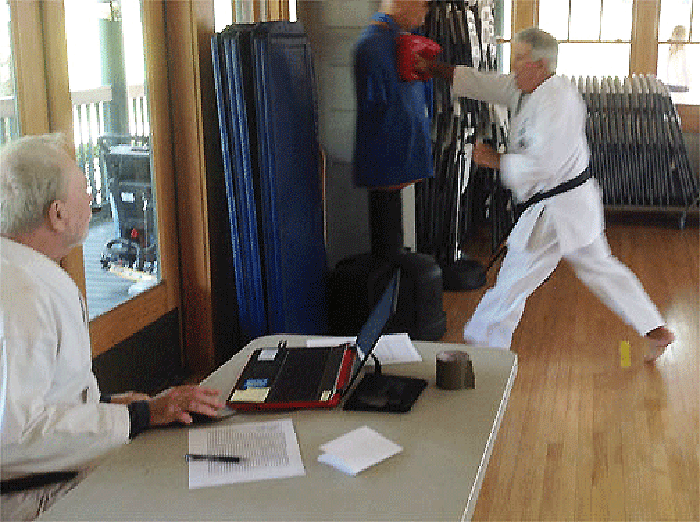 This year's Winterfest featured, what I consider to be, a very interesting and important self-defense topic and test.The ability to combine a calm alertness with the skill to go from a normal walking or standing posture into a reaction-ready fighting mode able to deliver a strike within a fraction of a second .
I've been training my karate classes, using the Herman interactive training system, to accomplish this and have included this program in my own workout sessions.
Herman is a pressure sensor affixed to a target. The pressure sensor communicates with software that can be loaded on any windows based computer system. The program provides a start stimulus using a human voice that begins with the word " ready." It follows with " go", the trigger to have the participant execute a strike (the anticipatory time frame for "go" varies from 1 second to 10 seconds).
Our test had the subject stand four feet from " Bob", a training dummy that supported a pad to which the Herman pressure sensors were affixed. The participant was required to stand in a neutral stance, with feet parallel and arms relaxed along the sides of their body. The attached sensors measured two variables, namely how long it takes a punch to be delivered onto the target (calculated in milliseconds) and how hard the punch landed, measured in "G-force".
Read the rest of this entry »