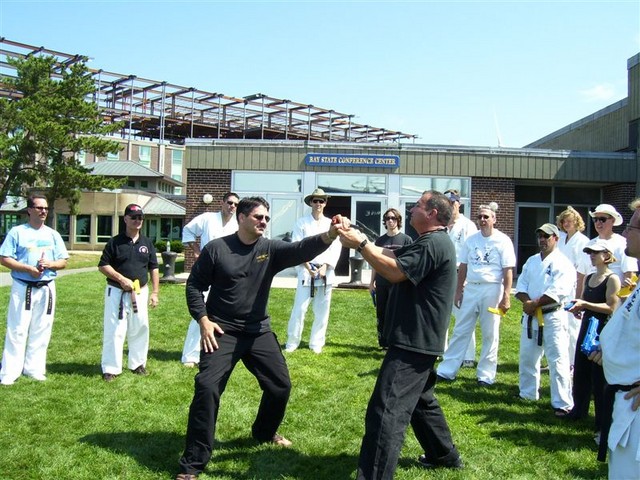 Important seminar that you and your martial art family and friends should attend. July 11 & 12, 2009
The telephone interview explains his program and how it fits in to our traditional martial art training.
Defensive Tactics, Corrections
NTC RedMan Training
Dave Young, Director of Training
1.888.NTC.7144, Ext. 1632.
E-Mail
RedMan Training at Northcentral Technical College (NTC) offers a series of specialized law enforcement training programs that provide hands-on, realistic scenarios to prepare participants for critical decision-making when real-life confrontations arise. Instructors provide knowledge and skills in courses such as Immediate Use of Force, Edged Weapons Defense, Water Safety Survival, Force Management Protection, Cell
Extraction and more.
Programs:
RedMan Instructor Certification Training
Crowd Management for Law Enforcement & Corrections (CERT and SORT Training)
Non Lethal Weapons Certification and Training
Ground Combat Survival Certifications
Specialized Programs for Officer Survival
Founder of Water Combat Survival Training for Law Enforcement
Instructor/Program Director: Dave Young
Former Law Enforcement and Corrections Officer in the state of Florida
U.S. Marine Veteran and SRT Commander
Internationally recognized law enforcement trainer and course developer
More than 25 years of combined experience in civilian and military law enforcement training
Chairman of PoliceOne.com Advisory Board
Member of Police Magazine and CorrectionsOne.com Advisory Board
Technical Advisory Board for Force Science Research Center
Host for National Geographic Channel for Crash Test Human and Police Tech Series
Published authority and expert on training in the fields of officer survival, non lethal weapons, crowd management, ground combat survival, defensive tactics and founder of water combat survival training for marine and law enforcement officers