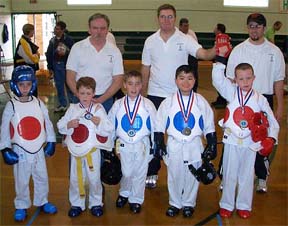 Hi to all Uechi-ryu students and teachers:
Hope all is well and your training strong.  Just a quick note to inform you of our 2011 Uechi-Ryu Karate Championship Series.  We had a great time last year and we hope to improve this year.  We've done much to insure fairness and consideration to all competing.  Please download our application from the attachment above.  If you would prefer, please write me back with your dojo name and address and I will mail you a poster and the amount of applications needed.
This is one event where all different association are welcome and come together as one united Uechi Family.  All 3 of the promoters are of different organizations but encourage the same goal of unity.  Those with misguided, elitist attitudes and false claims of superiority has not been invited.

We are also asking for black belts to please step up help us judge these tournaments.  The more judges we have the less questions we will have regarding judging.  I would love to be able to deduct highs and lows in every ring.  The only way to do that is to have 30 or more judges.  I will be announcing free judging seminar dates soon.  Please plan to attend if you would like to help provide the fairest conditions for our students. The promoters are even willing to travel to your dojos to teach seminars on judging.  Please contact me in regards to this either through email or you can call me at 508/746-3533.  All 3 tournament judges will be offered a free ticket for our Recognition Night Dinner. 
Remember. . . the new dates are May 1st, June 12 and October 2nd!
Thank you again and I hope to hear from you.
Darin Yee