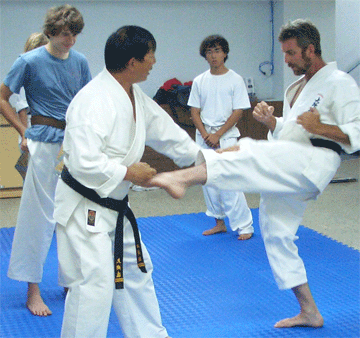 I've promised to field a Uechi-Ryu team to compete in this year's Uechi World cup held in Miami, FL this year on June 9th 2014.  I want to invite any and all Uechi student in the northeast to come work out with me once a week either on Friday nights which is a sparring night for my dojo or on Saturday afternoon from 11am to 1pm.
I have received many inquiries and many who have expressed interest.  To date no one has committed to a routine on needed workouts.  I will enter a competent team who will do well.  I do not doubt that.  My matt fee is $25 per workout and I will require a competitor to attend the minimum of 25 workouts.  This will assure he/she will demonstrate to me the necessary skills to compete in the standard which I expect.
Also be informed if you make this team, I will pay your airfare to sunny Miami, Florida.  I will also pay for your entry fee to compete.  Just bring money for food and expenses for 7 days, 6 nights in the designated hotel.   I will pay for your entry to the tournament.
Please be assured you will have to maintain your professionalism while you are with me and representing the IUKF.  There will be a curfew prior to the first night of the tournament and every night while you are still involved.  There will also be light workout on a daily bases (time to be determined).  I will also need to be informed of your whereabouts at all times if you are under the age of 21.  I will also not allow underage drinking of alcohol in any form or for any reason.
If you are interested, please let me know by email (darinyee@hotmail.com) or call me on my cell phone (508)958-7000.  At present I have 5 of my adult students going to compete and 1 of my students from Cuba competing if his job will allow.  I also have 2 young ones who want to go.  Their parent will make that decision as time grows near.  I would like to invite any Uechi-Ryu students regardless of affiliation to be part of this team but you must make the commitment to be trained with me for this event tournament.  You cannot imagine the growth you will experience by being a part of this.