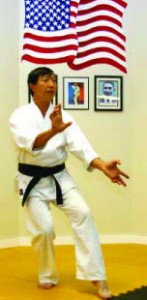 Darin Yee has requested an area that deals specifically with his Public Relations responsibilities for IUKF. So – As I am always eager to help out those who work hard for the benefit of Uechi-ryu – Here is the all new P.R. Corner for Darin.
Happy Holidays to all. I apologize for not being more active in my communication with everyone. I have been working on getting my new dojo open. Prior to this opening, I had promises I had to keep for doing seminars. It will be tough to travel after I am opened. I know my upcoming schedule still includes Edmonton, Canada – San Diego – Cuba (kung Fu) – and maybe Argentina to comply with all my commitments.
I will be having Grand Opening ceremonies this January 13th 2007 for my new dojo. We will begin with a traditional Lion Dance, as all martial arts school is associated. Some of the most famed martial artists in China are known simply for their abilities to teach and perform these rituals. Following the "Lion Dance", some of my students and friends from Boston will demonstrate a few of our kung fu forms, which I may teach in my dojo after they have learned Uechi-Ryu. I will personally perform a Uechi-Ryu Kata, as it is tradition for a sifu/sensei to perform prior to the opening of him school.
We will then go into the actual dojo where I will ask Gary Wong, Jose Aja, George Deraney, Herman Yee and maybe even Roddy Dow (if I can find him) to come up and do Sanchin as they were my original classmates in 1969 and the group from Mattson Academy who dominated the entire N.E.K.R.A tournament circuit in the early 1970s until we decided to stop competing within the United States.
I will then, in respect surrender the floor to Sensei George Mattson, the authentic, original founder and greatest promoter of Uechi-Ryu in American to teach the very first class to all my friends and supporters. After this work out, you will be my guess at the café for lunch (sorry we do not have an alcohol license yet).
I extend this invitation to all students of Uechi-Ryu. It matters not if you are a member of the IUKF or not. I consider all students of our style a part of our Uechi-Ryu Family. We need not agree on everything. Diversity is a good thing. If I have your respect, you certainly have mine.
If you need directions, please write me darinyee@hotmail.com. I will be happy to forward you directions to my new dojo. May love and wisdom prevail.
Strength and Honor,
Darin Yee