Feeding Crane Seminar With Liu Chang'I
November 2 & 3, 2013, Boston, MA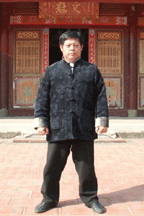 Liu sifu is the lineage head of the Liu family Feeding Crane system (Shi He Quan), from Taiwan. Feeding Crane was brought to Taiwan in the early part of the 20th century, from Fuchow, China. The system has been passed down unchanged in the Liu family, and contains a complete and traditional curriculum, including power development (kung'li), forms, application, chi'gung, body conditioning, as well as herbal medicine and other traditional practices. Liu sifu's power is amazing, and his technique is superb. His system is also interesting due to its relationship to Bai He, and other southern Chinese chuan'fa like Wing Chun. Its relationship to Okinawan karate, in particular Goju and Uechi Ryu, is also obvious in the movement and application.
If you would like to see Liu sifu in action, there are a number of videos on his Chinese language website: http://feeding-crane.myweb.hinet.net/, and there are a number of videos of him on YouTube. His website is also very informative, though it is in Chinese. There is an interview with Liu sifu here: http://www.dragon-tsunami.org/Dtimes/Pages/article36.htm .
SEMINAR FOCUS
This seminar will introduce the Feeding Crane system. It will cover some of the power development exercises (kung'li) that give the system its incredible powr. Introductory forms including 3 Battles (Samchien/Sanchin) and applications of the forms, as well as other training practices, will also be taught. These training methods will be of great interest to Okinawan karate practitioners as well as practitioners of traditional Chinese martial arts. For those people who have attended other seminars with Liu sifu, this seminar will expand on the material covered in previous seminars.
SCHEDULE
Saturday November 2
9:30 am– 10:00 am Sign in, warm up
10:00 am– 12:00 pm Feeding crane practice
12:00 pm– 1:00 pm Lunch
1:00 pm – 3:30 pm Feeding Crane practice
3:30 pm – 4:00 pm Questions
Sunday November 3
9:30 am – 10:00 am Sign in, warm up
10:00 am– 12:00 pm Feeding Crane practice, building on material from Day 1
12:00 pm – 12:30 pm Break, questions
12:30 pm – 2:00 pm Feeding Crane practice, building on material from Day 1
2:00 pm – 2:30 pm  Questions, photos
Please dress in work out clothes- gi pants, sweat pants or shorts and a t shirt.