2012 WinterFest!Last weekend in February. . . Enjoy a fantastic weekend in Mount Dora Florida with a great group of senior martial artist. Traditional Uechi-ryu and Okinawa weapons will be featured. Roy Bedard will be there as well and can be counted on for a couple of exciting and educational "realist" training. Lots of fun side trips will be available for Sunday and of course, Golf on Thursday. Don't delay. . . send your registration in to Susan today!
---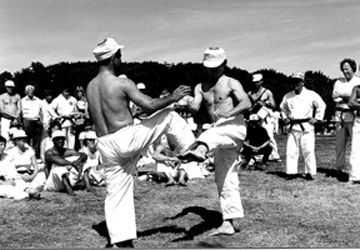 Getting lots of e-mail about this year's Martial Art SummerFest. "What are the dates?" "Where will it be held?"
OK. The dates are:
Wednesday, August 1st – SummerFest Golf Tournament/ Course TBA.
Thursday, August 2nd – SummerFest "Event". All day seminars with your favorite teacher.
Friday, Saturday, Sunday: August 3,4 &5th – SummerFest for All!!!
Where: At the Plymouth, Massachusetts "JunglePlex".
Rooms will be scarce in the area during this peak season period. . . SO… make your reservations early.
More information will be posted after we finish February's last weekend Martial Art WinterFest in Mount Dora, Florida.
Don't miss out on the fantastic training and good times.
Best,
George E. Mattson