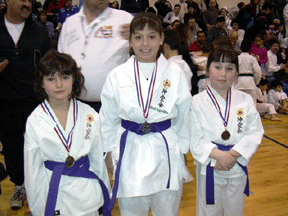 UKCS Tournament #1 will be held this Sunday, April 25 at the JunglePlex, 8 Natalie Way in Plymouth.
Take exit 5 off of Route 3. Go through set of lights, Natalie way is on your right after lights.
We will be having a referee and scorekeeper meeting at 8:30 AM.
Please bring a white gi to wear as judges and referees.
We hope to see you there!
Len Testa
Darin Yee
Manny Neves
---
A note from Darin Yee:
Hello Everyone,
I want to thank everyone for their support of our tournament series.  Concerning Uechi-Ryu practitioners are the backbone of a strong community and the strength of a great system.  
Diversification is not our detriment but our strength.  Look at our Great Country The United States of America.  Our diversifications give us options and a better understanding of everything we do.  If we were forced to walk on a single path, we would not grow as an art.  We would simply walk the footsteps of whomever is in front.
The key is respect.  Respect those who are different because we know not what they do and for whatever their reasons.  If we do not agree, we are free to choose our paths.  After 51 years if continuous martial arts training, the most important single thing I've learned is to respect those who walks another, parallel path.  We will all arrive regardless of our means.
Strength, Honor and Respect,
Darin Yee