Just a note to let everyone know I'll be out-of-touch for a week, starting Friday. IUKF is conducting a dan test in Bermuda and David Berndt and I are leaving our cell phones and computers home for the duration.
I'll be updating the WinterFest site in two weeks, but if you want to take advantage of the great airfares, be sure to book your flights now. Click Here for details and application!
Just confirmed. . . Bob Elder will be a presenter at WinterFest: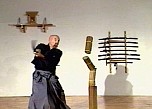 Toyama Batto Jutsu History:
See back pages of "Cutting Targets with the Japanese Sword – Practical Tameshigiri and Battodo for the Modern Swordsman" by Richard W. Babin, MD with Sensei Bob Elder.
Bob Elder Sensei Background: Bob is a native Floridian and has been involved in martial arts since 1971.  He studied Isshin Ryu Karate for 10 years from Bob Earls and later from his teacher Bob Bremer Sensei.  Wanting to learn Japanese Swordmanship for a long time and being a Japanese sword collector and dealer since 1979, Bob had to endure that wait for the right time and right teacher ordeal.  Bob knew several sword practitioners that came into his martial arts supplies shop (owned since 1979), but did not see what he was looking for until the seminar taught by Hataya Sensei at Art Rotts Chito Ryu dojo in Apopka took Place.  That was the turning point in Bob's life.
We are very honored to have Bob as a presenter. He is an excellent practitioner and teacher.