Hello Uechi Brothers and Sisters,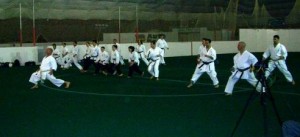 I am happy to announce our first regional workout for the year 2015.  As always, I would like to invite all respectable Uechi-Ryu practitioners regardless of rank or organization.  The main objective is to bring our Uechi-Ryu family together for an invigorating workout and to familiarize each other with one another.
The location is Natick Community-Senior Center, located at 117 East Central Street, Natick, MA 01760.  This is a great central location and easy access for our friends from all over New England including New Hampshire, Rhode Island, Connecticut and let's not forget the home state of Massachusetts.  It is a longer ride for me from Plymouth, MA but the facility is an ideal location for many of the surrounding dojos.
The gym is reserved from 1:30pm to 4:30pm on Saturday, March 21.  Our workout will begin promptly ay 2pm and ends at 4pm.  This will give us plenty of time to change and prepare for a great workout.  Please be informed we are supposed to be completely changed and off premise by 4:30 which is not a bad thing as we will make reservation at the restaurant next door named the Morse Tavern. Good food and reasonably priced.
Mat fees will be $15 for ages 18 and up; $10 for ages 13 to 18. We will allow juniors to attend but they will have to be able to participate as an adult.
The workout will consist of Choice warmups followed by kata.  When all 8 katas are performed, I will demonstrate and explain usage of certain movements within our katas from a Chinese Kung-Fu point of view.  If time allows, I will be willing to discuss and answer questions regarding any movement in any of our Uechi-Ryu katas.
Please also realize I do not profess the understanding of what I teach to be in anyway contradictory to what you have learned from anyone else.  Your sensei is always your go to source.  It is always interesting to view anything and everything from another perspective.
Extra Location Information:
East Central Street is also MA Route 135.  The center is about 1/3 of a mile out of the center of Natick heading towards Wellesley.
For people using the Mass Turnpike: Take the Natick exit 13, at the bottom of the exit turn east on Rt 30.  Drive about 1 mile to traffic light (intersection of Rt. 30 & 27).  Turn right on Rt 27 heading south.  Drive to the center of Natick.  Turn left (east) on East Central St.
Use a GPS if you have one.
Sensei Darin Yee