Important Notice! All WinterFest and FiredDragon Challenge participants must be registered by February 8th in order to receive a free lunch at the site. We must order food on that day, so please register today!
This year's Martial Art WinterFest will begin the day with what Uechi-ryu Black Belt Dana Krolick says will be an energetic and healthful experience for open-minded martial artist.
Dana's seminar will focus on pilates exercises that will help martial artist in their quest to become better practitioners.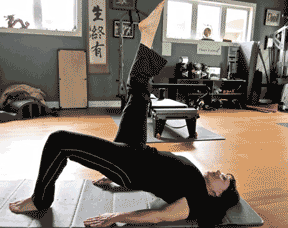 The fundamental principles focus on balance, concentration, control, centered awareness, fluid movements, and breath. Pilates enhances a core strength that increases flexibility, coordination and spacial awareness.  Pilates engages the whole person, not just the muscles. For everybody from an athlete to mother, Pilates will develop and enhance stamina, posture, alignment & core strength for elite performance to everyday activities.
What are the benefits of Pilates?
Elongates muscles without building bulk.

Slims problem areas, i.e., Hips, buttocks and thighs

Strengthens the back by building support in the abdominals.

Increases flexibility while building strength.

Improves posture, coordination, circulation and overall health.

Lowers risk of injury by eliminating tension and stress on joints, back, and neck.

Increases better range of motion.

Promotes relaxation and a sense of well being.
Who can benefit from Pilates?
People needing special consideration to injured and problem areas: including back pain, scoliosis, shoulder issues, fibramyalgia etc.

The super fit: athletes, dancers, and martial artists.

Women who are pre and post-natal.

Anyone wanting to shape and define their body.
Click here to register early and receive a discount. (Discount ends February 4th)