In Memory of Ahti Kaend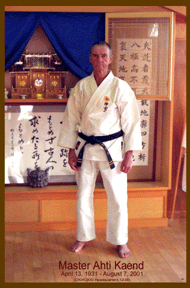 Our mentor Ahti Kaend left us on August 7, 2001. He will live on in our hearts and in our practice. He was a great kareteka, and he earned respect worldwide from all that took the time to listen to him and understand him. His practice was as meticulous and as sharp as he kept his dojo and everything else in his life, and he demanded that same level of excellence from those that trained with him. There is much to say about Ahti. Please visit:
www.uechi-ryu-west.com
and take the memorial link under Ahti's picture to:
www.geocities.com/okikukai/Ahti_Memorial.html.