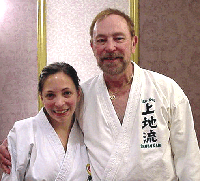 Sensei Mattson's seminar in Chicago at the end of March gave all of us the opportunity to go back to the essentials of Uechi Ryu Karate. Karate-Do, the path of the empty hand…path of the open hand. Based on this concept, Sensei Mattson, through his teachings and example, showed us that Karate-Do is essentially a way of life. Sensei has a great and honorable responsibility to share his wisdom and enlightenment to guide all of us, the Uechi family, towards that way of life. Sensei's seminar renewed our knowledge and provided us with real understanding of the meaning of Karate.
The starting point on which everything else parts from is Sanchin. Sanchin kata is the soul of Karate Uechi Ryu. The flow of its circular movements should be used as a guide for all basic movements of the blocks and the Sanchin steps, in this way allowing us to reinforce the center of equilibrium. Sensei emphasized not only the physical equilibrium but also the mental one. His concept is one in which our task is also to put our brains to work and think of creative and innovative techniques that adapt to different situations but never losing sight of the basics, the original form.
The purpose of the continuous and rigorous practice, applying variations to the basics, changing the speed, strength, count and timing of the Sanchin kata, is to help the body and mind dominate those movements without having to think about them. It helps develop a natural and instant reaction to any kind of external stimuli, such as an attack. Through this training, we should reach a state in which thought is not necessary any longer to commit to an action. During the practice of Sanchin kata, the body should be relaxed yet tense at the same time. The flow of energy and strength travels in two steps through the body to the tips of the fingers, reaching its maximum power at the end of the strike, coming to this point through a continuous and homogeneous movement of every muscle in the body involved in such movement. Every movement should be performed as a flow of the body's natural movements. The involvement of different muscles should be used in the application of every technique to help deliver a strong and powerful form that at the same time blends and links every move in unison without breaking the form.