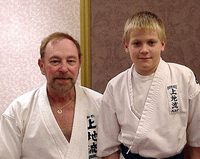 Dear Mr. Mattson,
Thank you for teaching me new ways of doing Uechi-ryu. I think it helps to learn different ways and forms of karate.
When I do my blocks I get more power when I keep my arms bent. When I do the chop-backfist-nukite, I learned not to keep my hand by my face. I also think I get more power when I don't put it by my face.
I thought it was fun when we did the flinch block. It helps because you don't know when a punch or a kick is coming. What I think helps my power is when I move my hips when I do my katas. During the kata, I also think doing this gives me the ability to hit my target better.
Thank you for giving me some of your time to teach me new ways and forms of Uechi-ryu. I enjoyed your seminar.
Thank you,
Jake Monson, age 10