IUKF Canada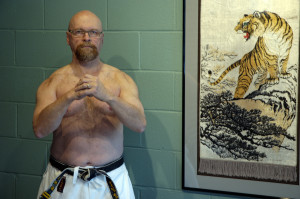 As this is the very first IUKF Canada newsletter, I want to take this opportunity to welcome all of you and thank you for supporting this fledgling Canadian
Uechi-ryu organization. I'm sure that I'm only iterating what most of you know,
but there are a number of Uechi dojo spread across Canada and I am hopeful that we can, through IUKF Canada, get to know each other, support each other and help our beloved karate style thrive. As some of you know, my commitment
to Uechi-ryu will span 50 years as of 2014 and many of you similarly span significant years of practice. But even if you're a "newby" to Uechi-ryu, I hope that this newsletter serves to encourage you in your practice.
IUKF already offers forums and other connections through the internet but, as the Canadian representative, I'd like to take a slower approach to our communication. It's nice to consider issues and discuss in a thoughtful way. I'd like to use the newsletter, not so much as a forum for who got promoted, got married, bought a new car (the usual news things), but as a means of haring common interests with ideas and questions. I've asked a number of you to write something of interest to you and I'd like to thank Victor Swinimer, James Walker and Michael Vena for taking the time to put something together. I've also been writing about Uechi-ryu for awhile and, in this newsletter, offer some ideas on ranks and testing for you to consider. My hope is that each of you will want to contribute questions, ideas, insights, experiences and that this newsletter will
evolve into an exchange. And so that we have time to do so, my intent is that the newsletter will come out quarterly.
So let's get started!
David Mott
IUKF Canadian representative.
Hachidan/Hanshi
Cold Mountain Dojo