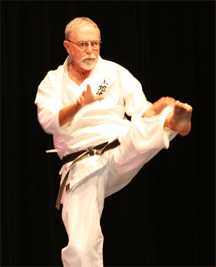 Many people visit Florida for vacation or on business. While here, plan to attend a class or two with George. Just call ahead to let him know when you will be in town.
Not coming to Florida, but want to stay in touch and get personalized, one on one instruction from George at home?
Join the Mattson Academy "Virtual" dojo program. Rave reviews from those who are taking this "distance learning" course.
Just want to review the Uechi curriculum on DVD? The Uechi store has many courses on DVD that will be perfect for you.
1. A four lesson basic course in "easy book" format. View like a book on your computer.  (The Private Lesson series)
2. A basic – intermediate course, contained in four DVDs. An excellent study program for new or existing students of Uechi-ryu.
Something for everyone. If you have any questions about any of these programs, call George today.
Organizations you may wish to consider supporting:
Believes in thinking globally and acting locally. The IUKF is a world-wide organization that consists of regional Uechi-ryu dojo that conduct black belt grading twice a year, based on Internationally recognized standards documented in the Black Belt Test Guide and interpreted/clarified by the IUKF "Rules Committee".
The IUKF is a member of the South China Martial Arts Alliance [SCMAA] and the Okinawa Family of Uechi Organizations.
You can participate in the future of Uechi-ryu by joining the IUKF today!
S.C.M.A.A. (South China Martial Arts Alliance) and  the Okinawa Family of Organizations
Teachers of different martial art organizations with roots in China or Okinawa are invited to join this friendly and non-structured fraternal group of like-minded individuals. Click here for application!