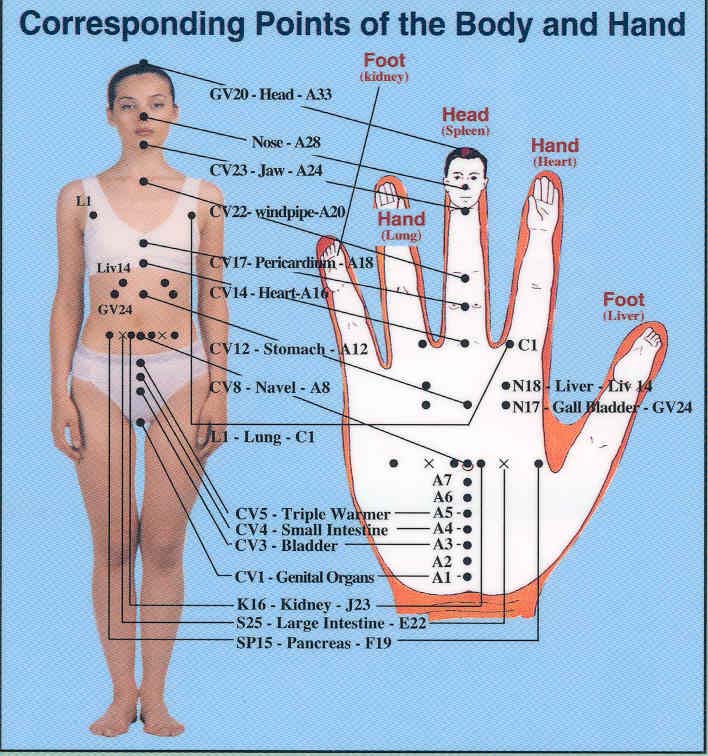 The Global Self-Care Initiative
Acu-Hand Therapy
Module I for
Uechi-Ryu "WinterFest "
February 26, 27, 2010
Course Outline
Friday Afternoon Introduction
Koryo Sooji Chim (Korean Hand Therapy) History
Presenter Demo– Practical Application
Saturday Afternoon Instruction
Mapping the Hand
Corresponding Areas of the Hand Relating to:
Front, Back and Sides of the Body
Upper and Lower Extremities
The Treatment of Acute Injuries
Ion Pumping Cords
Ap Bong (press pellets)
Hand Magnets
Moxibustion
Hand Acutherapy Testimonials
To Dr. Frank Yurasek and Dr. SaTerra Vishnu,
These are the results of putting into practice the hand acutherapy that
you taught on 12.5 and 12.6 of 2009 at Cleveland, Ohio for CNHP.
This has enhanced my Shiastu and Naturopathic Healing methods.
The following are some testimonials that I have observed in the short
time I been using this method.
Case 1. Sinus congestion and ear pain right side: (12.6.09)
Female, mid-40's, presented with sinus congestion and ear pain on the right side, also experiencing the start of a cold. Upon checking pulse the radial was stronger than the carotid on the right side, indicating yin excess. The pulse was then balanced using the Power cord method. Found the tender spot on the yin side of hand, on the middle finer, little finger side of the right hand. Palpitated for about 10 seconds and rubbed out ten times. The right side of the nasal and ear immediately loosened, and client was able to blow her nose. Her ear then popped and pressure was released. I then applied a homeopathic, Nat. Mur., which I taped to the tender spot on the hand. When client woke up the next morning congestion was gone. I showed her where to palpitate on her hand if congestion returned. She informed me that the congestion returned, she palpitated and the congestion released immediately.
Case 2. Low back pain left side and ankle pain right side. (12.8.09)
Female, mid-60's, presented with ankle pain (level 10) and low back pain (level 10). I have been working with this client doing 1 hour Shiastu treatments once a month for the past year. Upon entering my clients house she was using a cane and in severe pain walking up the steps. I had noticed she was wearing gold rings on her left hand. I asked her to remove the rings and put on silver rings. We rechecked her back pain was now at level 3. We place the silver rings on her ring and pinky fingers. I then proceeded to balance the pulse, which showed a mixed pulse imbalance, right carotid weak, left radial weak. I then worked on her right little finger around the first joint and thumb on left hand. Found points, palpitated, rubbed out and placed Homeopathic Ruta. Grav., because this was a chronic condition. Client immediately felt relief in the ankle. Also, balance LI yang with constitutional power cord method. When I left the client that day she was walking without her cane and pain level was 0-1. The next day her pain had moved up to her mid back. I told her to find the point on the back of the hand on the side of the body that where the pain was at. She palpitated, and instantly her pain was relieved. Four days later still pain free and walking without a cane.
Case 3. Shoulder pain right side. (12.10.09)
Female, mid 50's, presented one week ago with pain in the right shoulder with pain radiating down the arm. Movement was 20% upon raising her arm. First treatment was ½ hour Shiastu massage and trigger point therapy. Pain was slightly relieved. Began using the Hand Acutherapy on second visit. Client showed mixed pulse, left carotid weak, right radial weak, balance pulses both side. Work on third finger of right hand and checked first finger on left hand. Range of motion improved to 40%. Proceed to do Shiastu on right shoulder 20 minute session. Following session client pain was 1-2 and range of motion was 70%. Client was familiar with hand acutherapy, from a therapist in Poland. She had remember the points upon me showing her again.
Case 4. Low back pain, arm weakness, stomach upset, irritability (12.11.09)
Male, mid-50's, presented with left side low back pain (level 5), arm weakness both sides (level 3), stomach upset (level 4), irritability due to stress (level 5). Checked pulse, left carotid weak, right was balanced. Balance pulse, (power cord method) slight improvement in low back pain. Found corresponding point on Left hand, palpitated, rubbed out and placed Homeopathic Mag. Phos., on point, pain level went to 2. Next, worked on arm weakness by rubbing the corresponding third fingers on both hands, weakness was gone pain level 0. For Stomach palpitated alarm point Kd 16 on left side of body, pain level (6). Worked on constitutional Kd yin empty. Rechecked Kd 16 pain was gone and stomach upset was level 0. Client wanted to work on stress. Worked on Kidney yin Full and then Lung yin Empty, level immediately went to from level 5 to level 1-2. Clients face went from pale complexion to rosy cheeks and a more up lifting attitude. Upon leaving the clients home approximately one hour after 20 min treatment client was pain free level 0.
=============================================