WinterFest, 2010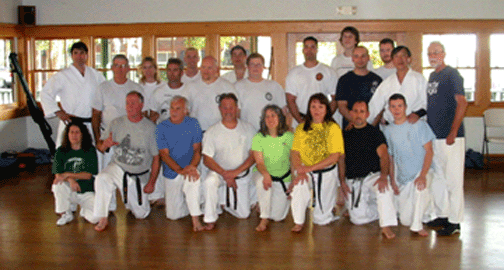 Thursday, February 25… golf: Join me and my Florida friends for a round of golf at the beautiful Mount Dora Golf Club. We will have extra clubs for those who don't wish to bring their clubs.
Friday, February 26…Uechi-ryu karate and Okinawa weapon seminars. We are expecting a large turnout this year, including many of my friends and students from New England. Classes will be held indoors and outdoors at Mount Dora Donnelly Park Building in downtown Mount Dora. Friday evening we will party and karaokei at water's edge at the picturesque Crazy Gator restaurant.
Saturday, February 27… Uechi-ryu karate and Okinawa weapon seminars will continue all day at the Donnelly Park Building.
Make your flight plans early to obtain the best prices. The weather is fantastic, the training will be, as always, excellent and I promise you will have a great time. If you have any questions, please feel free to contact me.
Lots of Martial Art celebrities will be in attendance and will be teaching seminars this year. Click the WinterFest link to view the latest updates.
My new book will be officially released at this year's WinterFest with a Friday lunchtime press conference and Saturday evening party at Crazy Gators.
Please Note: If this is the first time you have heard about the book's publication, you must not be on my Newsletter mailing list (check the box in lower left frame). Click Here to purchase your copy before all 500 are sold!
George E. Mattson