What – When – Where
32nd Anniversary Martial Arts SummerFest Conference
NOTE: From Susan:
The Mail in deadline for SummerFest is July 24th.
Receive a 10% discount for applications received before July 1st!
Application deadline through the store is July 27.
You will pay more at the door! Cash only.
See you August 2nd (Friday)
To mail-in registration and payment
Click Here to print out an application form
Draft copy of SummerFest schedule Here
SummerFest-2014: Friday, Saturday & Sunday, August 1st, 2nd & 3rd
*****Registration for this event is independent of SummerFest!******
JuniorFest: Saturday, August 2nd (10am-4pm -with lunch)
Where:
JunglePlex located in Plymouth, MA. (Directions)
Weather permitting, we will perform "Sanchin by the Beach" on the outdoor Soccer field – 6:30am-7am (Fri, Sat & Sun)
Please print out a schedule so you will know where to go at the beginning of each class hour. (starts at 9am sharp) Check-in at the door will begin at 8am each day. Presenters and Pre-registered participants please enter where indicated at door. There will be a table to register for latecomers. Please bring correct tuition in cash.
NOTE: Saturday Masters Celebration admission fee for visitors: $20
There will be food for sale at the snack bar.
Payments at the door must be in CASH!
******************************************************************************************
Welcome to the Uechi-ryu Martial Art SummerFest website. Running a successful conference is a lot of work and requires lots of support and help from my friends. After many years of conducting the camp at the Mass Maritime Academy, Sue and I decided to try out a different facility and to make a few important changes that many people have suggested.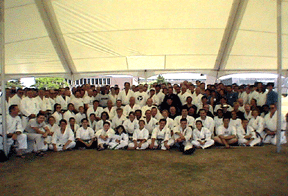 Many of our participants are over 40 and found the dormitory room setup uncomfortable. . . especially trying to get into the bunk bed which was six feet off the ground! Rain, although something we never had to deal with, is always a possibility and a potential problem we didn't want to deal with. The Maritime cafeteria served OK food, but for many camp participants, dining at local restaurants is a preferred option. Probably the biggest pain for everyone was the drive to camp while fighting Cape Cod traffic.
The new facility in Plymouth is easy to reach from Boston and other locations. Local hotels are cooperating by offering discounts for early reservations and we are working at getting local restaurants to give our people discounts.
And with 60,000 square feet of workout area, plus many rooms for "breakout" sessions and a full service lounge and cafereria for snacks, our camp should run smoothly and stress free.
I've been working with a number of senior martial artist who are skilled in conducting major sporting and educational events in order to find out other areas of SummerFest that need updating, modification and improvement. Some of the areas we are working on include:
1. Identify and finalize the Presenter list for the three days of camp as soon as possible.
2. Create a new and well organized website with easy to find links and topics.
3. Publish an advanced schedule of seminars in order for participants to review and sort out their list of seminars to attend during the three days.
4. Map out the facility with clearly defined seminar areas so presenters and participants will easily be able to find them.
5. Publish a list of local hotels and restaurants with discounted rates for camp attendees.
6. Because this will be a very important camp for many of us, it has been suggested that we adopt a dress code for working out. I would like to hear from you on how you feel about wearing a lightweight gi bottom, camp t-shirt and karate belt? I kind of like this idea.
I'll be continuing to work on this site and hope to have all the important information up by the end of May. Early registrations, hotel room reservations and airline tickets should be done as soon as possible. Airline fares continue to fluctuate and you should start checking them out now to get your best deal.
Looking forward to seeing you at camp this year,
George Mattson
Note: New Home for SummerFest is Plymouth, MA at the
JunglePlex Sports Facility
++++++++++++++++++++++++++++++++++
Weather
The Junglelplex has 60,000 sq. feet, all air conditioned, so we won't have to worry about the constantly changing New England weather. There is also an outdoor area for those who wish to work outside. If you are curious about the weather forecast, Check Here.