Instructor Bio for John Hassell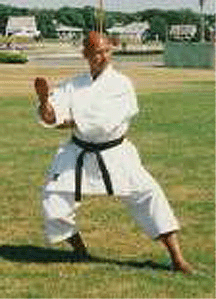 I started karate training in January, 1971, at the age of 14 on the island of Aruba, and attained black belt ranking in the Kyokushin-kai style of karate under the intense and foundationbuilding tutelage of Sensei Reinaud Poeteray, a Dutch Marine stationed on Aruba at the time. After moving to the US for college, I began studying with Sensei Ronald Teixeira in 1981, and learned JIKC Wado-ryu and Shotokan karate. I am currently Chief Instructor and Technical Director at The Karate Center in Worcester, MA.
In 1994, Sensei Andre Tippett, a Uechi-ryu karate instructor, introduced me to the Yamanni-ryu style of Okinawan bojutsu (staff martial art). I continued studying bojutsu with Tippett-sensei until 1996 when, with Tippett-sensei's permission, I approached Shihan Kiyoshi Nishime and asked to study with him. Under Nishime-sensei's tutelage I gained a much deeper understanding of techniques and body mechanics in kobudo and karate, and attained black beltranking in Yamanni-ryu bojutsu. I received further instructor training and approval to teach Yamanni-ryu bojutsu from both Nishime-sensei and Shihan Toshihiro Oshiro. Yamanni-ryu bojutsu is an ancient Okinawan staff-based martial art. It was popularized outside of Okinawa by Nishime- and Oshiro-sensei in the early 1990s, but it had had a great influence on the early development of martial arts in Okinawa.
I have taught and contributed to the promotion of Yamanni-ryu bojutsu and Okinawan kobudo in the US, Europe and the Middle East. At this year's SummerFest, I plan to teach sessions in bojutsu and saijutsu technique and kata.