---
SummerFest Good News!
Hello Sensei George,

Victor Swinimer and I were wondering if we can register and pay via credit card through e-mail for the summer camp?

Please let me know if this is possible.

Terry Lantz
Hi Terry:
I'm very happy to hear a couple of Nova Scotians will be joining us at camp this year. I hope you guys will be the first of many who will be coming. Don't forget to bring the guitars and see if you can get Duncan and the guys come along. You can sign-up for camp on our secure store by clicking here. See you in August. GEM
---
George-

I'm still scrambling to get the days off. I officially have the Saturday and Sunday off and am pretty confidant I'll be able to fly out of Portland Thursday to Providence and fly back Monday. Kami will be able to come too (though we won't have the extra tourist days in Boston). Until I'm sure we can get Thursday off, we won't be able to confirm a flight time... it's a little frustrating. Grrrr.

When we have the flight confirmed, can we count on you for help getting to and from the airport? Other than that we should be good and with a Thursday flight there will be time to learn and play and teach all three days.

We've been missing you, Susan, and the whole big messy family.

Rory
Camp wouldn't be the same without you and Kami. So happy to hear you will be with us again this year, heading up your team. GEM
---
Hi George!

How goes it in Florida??? Things here are starting to pick up! People are getting to know me and in the last week I have signed on 7 students! My after school program is over, but I still have 23 full time students and things are looking good!

I had a quick question regarding testing at summer camp. I know sparring is required, but I want to keep what I bring on the airplane to just a carry on bag. Do I have to have sparring gear with me? And if so how much?

I look forward to seeing everyone at camp! Have a great day!

Wendi
Hi Wendi: Looks like your new dojo is off to a great start. Looking forward to seeing you at camp. We will have extra equipment, so leave yours home. GEM
---
Looking for a dojo or instructor!
Dear George I am traveling to Tokyo Japan on the 14 of July and will be staying in Shinjuku. Do you know of any Uechi-Ryu dojos in the Shinjuku area that I might be able to visit?
Sincerely Roger Sultzman
Shaolinji Karate Kung fu
Chicago.
Hi Roger. I sent your email to Hiro Uechi in Tokyo. Let me know how you make out. GEM
---
Very dear Mattson Sensei,
I had the chance of bothering in the past and you even sent me a videotape, something you can't forget easily.

I also tried to visit you in Boston but I didn't because the exhibition center (where I was) was too far pfrom your place and you has a training going on Sunday morning.

Anyway, who knows. I am basically writing of the leading martial art mag in Italy. I tried some Uechi in France and down in Serbia/Yugoslavia and in Munich, Germany I will for sure try it soon.

The reason of the meail is:
1. how could I be "connected" to your Association?
2. is there something like a "long distance learing program"?
3. I am just back from Taipei. I visited a white crane teacher, aged, and he told me that there is an old video taken in 1964 in a restaurant with many of the good teachers of the good old days. How can I have it? You did it, if I am not wrong...

A big ciao from a sunny Venice

Sincerely

Antonio Schiavon
Hi Antonio: The video/dvd you are looking for can be found in our secure store. IUKF is our organization and we do offer on-line conferencing and video clip help for our members. GEM
---
Hi sensei!
. . . . I don't know if I thanked you properly or enough for being at our recent Black Belt Test. What a BOOST for our school!
One member watching the test that day is on his way to the Orlando area and is DYING to workout with your club and/or receiveprivate instruction from you while he is there. His name is Billy Phillips. Both he and his son, Liam, practice with us at our school.
Can you tell me a little about your club, when it meets and where it is located? I'll forward the information to Bill and see if I can help coordinate a meeting between you to.
As always, thanks a million, George! I hope you and Susan are beating the summer heat in FLA!
Love,Gary Khoury & Gang
PS: Which email address is best to contact you at? I have FOUR for you! J
Hi Gary and "gang": Anyone visiting Florida is welcome to attend my classes at the Eustis Senior Center. I also teach private lessons at my home. Just call 352-589-9889 when you know you will be in town. Oh yes, I seem to be accumulating lots of email addresses, but you can always reach me at gmattson@uechi-ryu.com .
More Training Tips from our Readers!

George,
I think as long as you mix the standard Uechi System: Sanchin, Drills (Primary & Secondary), Kumite, Kata, Bunkai, along with some Sparring it keeps the practitioner honest in their study and not deluded in their form. Simple but true. I think sparring needs to be encouraged as it shows where the gaps are and keeps the form honest.
For what it is worth this is my experience.
Also some exposure to other systems helps the practitioner as well. Without exposure say to a grappler for example a Uechi practitioner has no counter or context especially off their feet and horizontal.
I hope your well,
John E. Carlson

---
Hi,

Please allow me to introduce myself. I am John Carria. My Uechi-ryu bio is attached.

I have attached a flyer for my seminars. Please let me know if you be interested in having me teach a seminar at your dojo.

Thank you,
John
Three Conflicts Seminar
Taught by Kyoshi John Carria (7th Degree Black Belt, Okinawan Uechi Style Karate)
If you have never been to one of Kyoshi Carrias' energetic seminars, then you are in for a treat. Be prepared for more than a lecture, this is a hands-on seminar! This program is for serious Okinawan Karate practitioners of all ages, that are interested in getting a new view on old kata, kumite and bunkai.
Program: " Energetic Workout " Pressure Point Training " Okinawan Body Conditioning Methods " Training Plans & Concepts " Health and Nutrition
When: Your dojo
When: Please call to Schedule
Cost: $20/Student - $40/ Family (Register before ???) $30/Student - $50/ Family (After ??? or at the door)

This is an ALL BELT and STYLES Seminar
For more Information, please contact: john.carria@captexx.com
The Instructor - John Manuel Carria, Jr.
"My philosophy is that karate is a test of endurance, of pushing yourself to the limits of your ability. If you can do this in karate, you can certainly do the same in life."

In October 1969, John Carria began studying karate in Providence, Rhode Island. He attained his Shodan (1st degree black belt) in 1973, and upon graduation from college, served as an instructor at the Providence dojo. He attained the rank of Nidan (2nd degree black belt) in 1975.
In 1976, Kyoshi Carria joined the Marine Corps, and requested to be transferred to Okinawa and studied karate under Hanshi-se Kanei Uechi. He was promoted first to Sandan and later to Yondan (3rd and 4th degree black belts) by Master Uechi, who also awarded him a teaching certificate. While in Okinawa, Master Carria became involved in other aspects of the islands' culture. He studied the language for two years, and attained the rank of Sankyu (brown belt) in Japanese calligraphy with Hanshi-se Ryuko Tomoyose (the past President of the Okinawan Karate-Do Association).
After returning from Okinawa, Kyoshi Carria served as Chief Karate Instructor at the Quantico Marine Corps Base for three years. During this time, he also received a graduate degree from Central Michigan University.
In 1983, he resigned his Marine Corps commission to pursue a career in the public sector and reside permanently in Woodbridge with his family. He has studied with Kyoshi James Thompson since 1979 and attained his Kyoshi (7th degree black belt) rank. During the past 35 years, he has taught classes and seminars for several other systems as well as Uechi Ryu in both the US and overseas.
For scheduling a seminar in your area or general information about Uechi-Ryu and John Carria please visit www.uechi-kokusai.com or email John directly at john.carria@captexx.com.
---
Balazs Tip Corner
Ask the Trainer:
"I've been running an average of 3-4 times per week. My running routes vary, averaging 6 to 8 miles. Recently I've been experiencing some pain in my right knee. One of my running partners suggested I might have "Runner's Knee". Any suggestions?"
"Runner's Knee" is a common condition. The actual cause and effective treatment can be hard to explain. To understand what can cause 'runners knee' we can divide the causes into two categories. Intrinsic and Extrinsic.
Intrinsic causes for runner's knee can include internal injuries to the cartilage, ligaments or tendons in and around the knee. This could include a torn Meniscus or ACL injury (anterior cruciate ligament) or dislocated patella. These types of conditions need to be seen by your family doctor and may need more extensive treatment.
Extrinsic causes for runner's knee are much more common. They can include anatomical misalignment, muscle weakness, and over-use. Everyone has a unique body build. This is what makes some runners very efficient, whereas some have to struggle to maintain fitness.
Treatment:
Carefully review your running history: Factors such as excessive increase in distance and speed, hill training, worn out running shoes etc…some of these factors may be altered easily and the symptoms may subside. A very frequent treatment for runner's knee usually involves a combination of strengthening and stretching the quadriceps muscle, combined with stretching the opposite (complementary) hamstring muscles that may be tight. In addition, altering your shoe wear or replacing shoes with more stability, padding and support may help. If these basic remedies are not successful, you should check with your physician or orthopedic specialist.
Once you begin appropriate treatment for runner's knee, it may take several months for the symptoms to subside.
(These comments should not be construed as a diagnosis or specific treatment plan for an injury. See your doctor or orthopedic specialist for a diagnosis and treatment if required.)
- Andy Dumas
Send your questions for Andy to info@BalazsBoxing.com
---
Lets get rid of that "Sanchin Belly"
Andy and Jamie's Health and Fitness Tip:
Abdominal Training 101 The abdominals are a group of muscles in your mid section consisting of the rectus abdominis, the obliques and the transversus abdominis. This group of muscles runs from the bottom of the ribs to the top of the pubic bone. For training purposes we'll break the area into two parts: the Upper and Lower abs. We suggest working the lower abs first, twisting movements second and upper abs last. The reason behind this order is that the upper ab muscles are called into play for all lower ab exercises. If you work the top portion first, these muscles may get too fatigued to assist in working the lower abs. There are three more elements that are as important as the sequencing of the work out to ensure an effective conditioning routine. They are: 1) Proper breathing, 2) Maintaining tension and 3) Rest intervals. For proper breathing, exhale completely on the exertion phase of all ab exercises. This assists in completely contracting the abdominal wall. Maintaining tension, holding the ab muscles tight, between repetitions allows for quicker fatigue and more intense sets, and serious results in shorter time intervals. Rest intervals between sets should not be longer than five seconds. Abdominal muscles are endurance muscles that recover quickly, so you have to keep them working to get results. Focus on these elements during each exercise and you'll see superior results, even if you are currently doing daily ab workouts.
Here are 4 great abdominal exercises for each section of your abs: If you can't complete the number of reps outlined, just exercise until fatigued, rest briefly, then start again. You can train abs four or five times per week without worrying about overtraining the muscles.
Exercise #1: Hip Raises (Lower) Get in the starting position-lie with your back flat on the floor or preferably on a mat, your head should be flat on the floor, hands placed along your sides and legs are straight up in the air, forming a 90-degree angle with your torso. Use your lower abs to lift your rear end up off the floor. The movement should lift your buttocks no more than four to six inches off the floor. (Do 3 sets of 15 to 20 reps.)
Exercise #2: Reverse Crunches (Lower) Start on your back with your legs raised (to 90 degrees) and knees bent. Your feet should be placed together, but not crossed. Contract the lower abs, concentrating on the area from the navel to the pubic bone, and crunch your knees toward your chest. Again, the movement should lift your buttocks no more than four to six inches off the floor. (Do 3 sets of 15 to 20 reps.)
Exercise #3: Bicycle (Twisting) Lying on your back to start, with your legs raised (to 90 degrees) and knees bent. Hands are linked behind your head with your elbows pointing out to the sides. What you are going to do is try to touch your elbow to the opposite knee-right elbow to left knee. Meanwhile, your other leg is extended, but kept off of the floor. Remember to lead with the armpit not the elbow, and let your abdominals bring your knees in, not your hip flexors. Start alternating legs and elbows, but be careful not to pull on your head. (Do 3 sets of 25 to 30 reps.)
Exercise #4: Basic Crunch (Upper) Get in the starting position- lie with your back flat on the floor or preferably on a mat. Place your hands beside your head or crossed on your chest. Place both feet on the floor with your knees bent. Contract your abdominal muscles, keeping your lower back forced to the floor. Exhale and lift your head and shoulders off the floor as a single unit-try not to lead with your head-and move towards your knees. Pause and then lower your head and shoulders to the floor. (Do 3 sets of 25 to 30 reps.)
Tune-up your karate with Boxing Drill #19:
Perfecting the Straight Right Heavy Bag Drills: Perfecting the Straight Right This month we'll show you how to develop your straight right into a lethal weapon. To review the basics of this punch, please see the Straight Right section on our website.
For orthodox (left foot forward) fighters the straight right is your power punch. The power is generated by the rotation of your core- your hips and shoulders- combined with driving forward off your back foot. A solid core is a necessity to maintain balance and alignment while throwing the Straight Right. See the fitness tip below for advice on maintaining a strong core.
From the on-guard position, the right hand is thrown straight from the chin on a direct line to your target. The straight right should be thrown without a wind-up. Winding up will telegraph your coming punch to an opponent. As you launch the punch, pivot on your right foot (back foot) as you transfer your body weight forward. Rotate your hips as your arm extends towards the target. Keep your abdominal (core) muscles tight. Finish the punch with your hips square to the target, chin down, and eyes on the target. Keep your left (opposite hand) up to protect your head. Quickly get back to the on-guard position.
Practice on the heavy bag, striking the bag head high. Remember to pull the punch upon impact and 'snap' the punch. This will prevent the bag from swinging wildly.
Practice several rounds on the heavy bag, throwing only the straight right. Punch, move, punch, move and repeat.
Once comfortable, practice a few combinations with the Left Jab (learned last week) followed by the Straight Right; this is commonly referred to as the "one two punch". One-two, move; one-two, move and repeat. Keep moving!
Balazs Inc. publishes the "BALAZS BOXING E LETTER" monthly. [Reprinted with permission]
---
Are the Martial Arts still under developement? by Peter Sundbye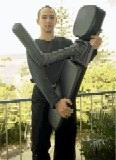 Throughout the history of the martial arts and all the combat systems of man training tools have played a vital part in evolving and perfecting these systems and techniques
Whether it be the traditional wooden dummy, wing chun rings, iron palm ointments and even the system of using forms and karta have developed the martial arts into their current form.
Even today modern training tools are common and again the martial arts are under development with new training products such as the Wavemaster, the BOB training dummy, the Focus Master. All with one thing in common, to create a well rounded combat system.
Ideally a martial arts solo training tool should be workable for all and based on sound theory and through constant practice develop into sound physical application. The ideology and theory would have to take into account all the history of the combat technology of man and give this competition and street application.

The Martialarm Combat Theory
The Martial Arm will test any technique, from any strike based style to see if it will work effectively and safely in accordance to these theories. It is the ideal training partner and mechanical Sifu.
A general view of these theories are:
1. You must maintain 100% safety when entering into the opponents attack range, this means to limit any variables that could occur by covering them. (Methods of entry must be sophisticated yet simple, fast as well as safe!)
2. You must have the ability to attack at will, with no concern or hesitation. The attack should incorporate a total control of the opponents weapons. (Attacks must be structured to have within them a 100% defense!)
3. Techniques, attacks and defenses must flow but not necessarily at a constant pace. Adaptability to choose what's next is key!
Fighting Scientifically!
The Martial Arm was designed to train the user to implement certain theories from a Combat system called Martial Science or Total Control. A science designed and developed by Mr. Lawrence Lee.
"Modern military strategy today is extremely effective. The formula they utilize is to search for and take out the opponents heavy weapons via satellites and long distance offensive weapons. Then once the way in has been cleared, the main force of numbers move in to clean up. This obviously should be also done on a one to one basis, if you know how!"
Some Martial Arts systems today do not apply such modern philosophy. It would be a modern disaster to send in the infantry without satellite information and a prior long distance attack using stealth weapons.
Why focus so much on attacking the opponents head or body immediately in a confrontation? If this is where our full attention is, the defense whilst attacking is minimal and so we get hit as we attempt to hit. Why not take out his weapons as we attack? It is common in some Martial Arts that you are at your most vulnerable as you attempt to strike.
The Martial Arm shows you the correct way to defend while attacking by apply the above modern military concepts and more!
The Martialarm Kung Fu Training Dummy
The Martialarm is a Martial Arts training device used to develop the entry and trapping skills of any student.
Its use in bridging the gap from boxing range into the appropriate trapping position will increase safety when entering into your opponents space.
By using the Martialarm to practice in the control of an opponent's arms will allow new, unique methods of entry to be developed in attacks and it teaches control over the opponent's attack and defence capabilities as it provides constant resistance to the center.
The Martialarm is designed to teach any martial arts student to expertly implement trapping techniques, as it moves and reacts like a real opponent.
The Martialarm moves up, down, left, right and all variations in between like a real arm would. Any pressure placed on the arms internal springs will be distributed over the shoulder and elbow joints for complete realism. It also twists for basic locks and other set-ups.
The Martialarm attaches to a wall and is used like a wooden dummy for training in Wing Chun Kung Fu, Jeet Kune Do, Karate and other martial arts.
Other similar devices are not readily usable by the new student, as they are not a simple representation of an opponent in an attacking or defensive position. The Martialarm teaches you to create new techniques because of constant forward force, so it can strike back.
The Martialarm is a modern training tool and is the new way to train. Its benefits are obvious to any strike-based Martial Arts system and actually develops your current style and so work to create a well rounded combat system.

This article was written by P. Sundbye who has been training in various martialarts for the last 11 years including Wing Chun Kung Fu, Aikido, Tong Long and the Lee Total Control system.
For further information visit http://www.martialarm.com

e-mail support@martialarm.com
---
Dear Dogs and Cats,
The dishes with the paw print are yours and contain your food. The other dishes are mine and contain my food. Please note, placing a paw print in the middle of my plate and food does not stake a claim for it becoming your food and dish, nor do I find that aesthetically pleasing in the slightest.
The stairway was not designed by NASCAR and is not a racetrack. Beating me to the bottom is not the object. Tripping me doesn't help because I fall faster than you can run.
I cannot buy anything bigger than a king sized bed. I am very sorry about this. Do not think I will continue sleeping on the couch to ensure your comfort. Dogs and cats can actually curl up in a ball when they sleep. It is not necessary to sleep perpendicular to each other stretched out to the fullest extent possible. I also know that sticking tails straight out and having tongues hanging out the other end to maximize space is nothing but sarcasm.
For the last time, there is not a secret exit from the bathroom. If by some miracle I beat you there and manage to get the door shut, it is not necessary to claw, whine, meow, try to turn the knob or get your paw under the edge and try to pull the door open. I must exit through the same door I entered. Also, I have been using the bathroom for years - canine or feline attendance is not mandatory.
The proper order is kiss me, then go smell the other dog or cat's butt. I cannot stress this enough!
To pacify you, my dear pets, I have posted the following message on our front door:
RULES FOR NON-PET OWNERS WHO VISIT AND LIKE TO COMPLAIN ABOUT OUR PETS:
1. They live here. You don't.
2. If you don't want their hair on your clothes, stay off the furniture.(That's why they call it "fur"niture.)
3. I like my pets a lot better than most people.
4. To you, it's an animal. To me, he/she is an adopted son/daughter who is short, hairy, walks on all fours and doesn't speak clearly.
5. Dogs and cats are better than kids:
A) They eat less, don't ask for money all the time, are easier to train, usually come when called, never drive your car, don't hang out with drug-using friends
B) They don't smoke or drink, I don't worry about having to buy the latest fashions, they don't wear your clothes, and don't need a gazillion dollars for college.
C) And if they get pregnant, you can sell the children.
---
The Real War Zone!!!
According to the site icasualties.org, there have been 88 hostile fire deaths caused by firearms since the beginning of hostilities in Iraq. The remainder of coalition deaths have been due to explosives or accidents.
Considering that there have been on average 160,000 troops in theater during the last 22 months, there has been a firearm death rate of 60 per 100,000.
The firearm death rate in Washington DC is 80.6 per 100,000. What this means is that you are more likely to be shot and killed in our Nation's Capital, which has some of the strictest gun control laws in the nation, more than in Iraq.
The conclusion? The U.S. should immediately pull out of WASHINGTON, DC.