Thanks to Joe Guidry for submitting this article: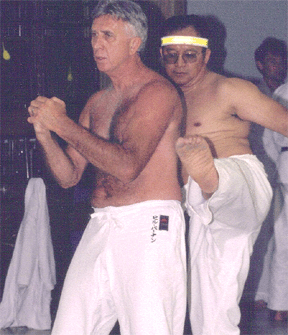 The picture shows Bill being tested by Scott Higi in Sanchin at the Brandon Recreation Center in Brandon, Florida.
Bill Bannon was a 3rd degree in Uechi Ryu and a 1st degree in kobudo under Master Shinju Gushi. He trained with me since the late 80's in Brandon and Center Hill, Florida.
In 2006, Bill crashed his ultra light plane and was told he would never walk again, but he did.
He attributed his walking again to the kata Sanchin

---
BANNON, William Maurice, 66, of Darby passed away on April 28, 2012. Survived by his wife of 39 years, Joanne, his children, Jesse Bannon, Esq. of Jacksonville, Florida and TSgt Trevor (Tina) Bannon of Crestview, Florida, and his three grandchildren, along with an extended family and numerous friends. A memorial service celebrating his life will be held 10am Friday, May 4, 2012 at the 301 Chapel of Hodges Family Funeral Home. In lieu of flowers, donations may be made to HPH Hospice or the American or Canadian Cancer Societies.
Bill's enjoyment of competition was so much who he was. He liked to win and frequently did at British car shows and amateur motorcycle road-racing circuits. Bill raced many classes of motorcycles for nearly 20 years, in clubs such as American Motorcycle Assoc, Western Eastern Roadracers Assoc, Florida Grand Prix Riders Assoc, Canadian Motorcycle Assoc. and American Historic Racing Motorcycle Assoc. He has many trophies including the 1994 AMA Championship Cup Series Champion Florida Region for Lightweight Vintage. His mechanical talents were very helpful in making this hobby a reality.
Bill loved outdoors activities with family; boating & knee-boarding, hiking, camping, canoeing, and road-trips to Canada and Massachusetts and nearby beaches.
He had the dream to fly since a kid, spending Saturdays at the airport watching take-off and landings. He was finally able to realize that dream when he built and learned to pilot the ultra light sport plane, 2005/2006.