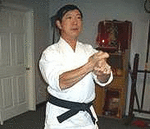 Darin Yee, an IUKF board member is willing to teach seminars in all IUKF dojos upon request and if time is available.  They need to call or email Darin to arrange a date and time.
This is a fantastic opportunity to train with one a senior Uechi instructor who has an extensive Chinese Martial Art background and more importantly, able and willing to help Uechi practitioners understand how our art relates to its Chinese heritage and the many different systems Uechi-ryu is derived from.
A most interesting and educational experience.
Darin is one of the senior presentors at this year's SummerFest. Don't miss working with him. Best,
George E. Mattson
---
George
Thanks for putting that invite from Darin on the front page of your website. I would encourage all the local dojos to take advantage of the opportunity. Darin was at Karate Do in Stow, MA last Monday night. We had a 2-hour class where Darin not only reinforced what I've been teaching my students but also added in-depth understanding of the techniques we were practicing.
I've been taken classes with Darin for about a year now in order to add the 'soft' to the 'hard' of Uechi. I've been doing this to accommodate my thinning bones, arthritis, years and the desire to continuing working and learning in the martial arts arena.
The best part about studying with Darin is that he can isolate a move in Uechi and then show you the same techniques in an array of other styles and forms then turn around and practice the technique using multiple scenarios.
I will continue to study with Darin despite the 1 ½ hour drive to and from class and despite that fact that my own Sensei, Fedele Cacia, is also an incredible Sensei. I've learned so much from both of them. I can only hope that my own students will feel the same way about my instructions as I do about both Darin's and Fidele's guidance in my studies.
SummerFest 2010 is coming up – I would certainly encourage everybody to attend even if just for one day. You can learn so much, perhaps even what your own instructor has been trying to teach you. Hearing from another's perspective can sometimes shed light on a subject matter. To all potential campers: go, work hard, make friends and have fun.
Best,
Pat Saunders, Sensei
Pat Saunders
Karate Do, LLC – formerly the Stow Martial Arts Center
117 Great Road
Stow Shopping Center
Stow, MA 01775
978-897-5900
978-897-0606 fax
---
From: TOWNSNDLAW@aol.com
Date: Tue, 15 Jun 2010 20:41:56 -0400
Subject: Darin Yee's Seminar
Dear Darin,
I just wanted to thank you for taking the time to come up and visit and teach at my Dojo on Memorial Day.  My students in attendance have been talking non stop about the different perspective you bring to Uechi teaching and the interrelationship between Uechi and your Kung Fu experience.
It is truly special to know that as an IUKF member and member school that we have access to such teaching and history.  My students have asked if you will be able to come back again soon and I assured them that we would definitely make that happen.
It is great to know that belonging to the IUKF affords us the opportunity, like we just had, to bring quality and different instruction into our Dojo to give the students the very best martial arts experience possible.
Thank you again my friend,
John Page, Sensei
---
Mr. Mattson, Sensei
Hello, Geof Hemenway here from Rising Star East dojo in Massachusetts.
Just a quick comment regarding Darin Yee seminars. Sensei Darin just visited or dojo this past Memorial Day. We had almost two hours of class with him to ourselves.
And I have to say, next to yourself, or Fedele Sensei, when he comes to visit, that in my short fours years in Ueshi, Darin Sensei has to be one of the most interesting martial artists that I have had the pleasure of meeting, talking with and learning from. If Darin is willing to give of his time and experience, them I would think that every dojo within reasonable distance should be lining up for his visits. And the time we spent hanging out with him after class was very informative, and interesting.
Now we all know Darin is never at a loss for words, so there was never any down time wondering what to talk about. Every minute with him was well spent . The history Kung Fu and how he applies it to Uechi is pretty wild. Very interesting to say the least. I look forward to seeing you and Darin at Summer Fest next month.
Your friend,
Geof Hemenway
p.s.
My best to Susan
---