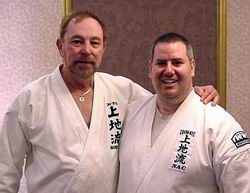 No matter how much I think I might know about the study, practice and teaching of Uechi-ryu, a short visit from Sensei Mattson never fails to humble me.
As always, I am honored and grateful that Sensei Mattson was able to travel to Chicago to spend a weekend working with me and my students. I am not going to write about all of the training concepts that were shared with us by Sensei, as the essays written by the other students did a great job of covering those topics. Instead, I am going to approach this essay from a different perspective; I am going to discuss the concepts that were taught by Sensei will enhance my teaching ability.
The first, and most repeated, concept that Sensei mentioned was the tendency for students to attempt to generate power solely through the use of muscular strength. While this seems like a perfectly logical way to generate power, it is in fact, counterproductive. When a student attempts to generate power through muscle strength alone, it is likely that all of the muscles will be flexed. When this happens, the movement of the particular technique in question is slowed considerably, as both set of antagonistic muscle pairs are fighting against each other.
While the muscles appear, or even feel, as if they are working hard, they are simply "spinning their wheels." The reason is quite simple when explained kinesthetically. The most important variable in generating power is speed, not strength. As speed increases, so too does the power one can generate. In order to maximize speed, one must keep opposing muscle pairs from working against each other. Therefore, students should be encouraged to refrain from overtly flexing their muscles during any kinetic movements as they perform their techniques.
Using the mass from their entire body (and from the Earth itself if they are properly rooted), coupled with maximum speed generated from a properly relaxed body, students should be able to maximize the power generated, and hence the force applied to their target as they flex their muscles at the point of impact, or focus. Sensei also spent time with the students encouraging everyone to move naturally. While what is natural for one student might not apply to another, the overall concept applies to each student as a human being.
As a member of the human species, each student can be expected to have certain physical traits that lend themselves to movements performed in certain predictable manners. When students attempt to perform their techniques in an unnatural manner, overall power and efficiency is lost. A contributing factor in this regard is probably due to the mystical properties newer students try to attribute to Karate techniques. Because Karate techniques are misunderstood by newer students, many attempt to perform them in an unnatural manner, because if the techniques were easy to perform, everyone would have Black Belt level skill.
Students should always be taught to move naturally, as any human normally would. For example, we don't encourage track stars to run faster by adopting an unnatural toe-to-heel foot roll as they run. Likewise, we shouldn't encourage our students to perform their Karate techniques in an unnatural manner. On of the most common errors students make when trying to perform their techniques is trying to maintain a stiff, inflexible posture during their movements. Sensei was very clear that when performing movements such as the Wa-uke block, that the shoulders should move naturally as the arm is moved across the body. If the shoulders are kept in an upright and locked position, all of the natural power that the block should generate is lost, thereby causing one of two problems.
First, the block would be so weak when performed that it would be entirely ineffective. Alternatively, the student, in an attempt to make the block strong enough to be effective, would overcompensate for the lack of power by moving the body into an even more unnatural position. Ultimately, this would lead to a breakdown of the basic Sanchin posture, thereby sacrificing all of the benefits of that stance. Another similar problem occurs as students resist the urge to allow their hips to move naturally as they perform their various techniques. While Sensei did not advocate an emphasis of hip movement, and even discouraged it for beginning students, he did state that natural movement of the hips is necessary for properly executing powerful and effective techniques.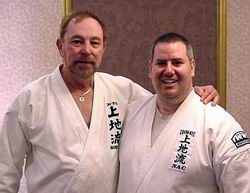 This hip movement can include rotational movements, such as would be executed during Sanchin thrusts or Wa-uke blocks, as well as front-to-back movements performed during the execution of a front kick. In keeping with the concept of natural body mechanics, Sensei also spent a great deal of time discussing and training the students on the merits of the "Uechi immovable arm." The strongest position of the arm is when it is neither fully bent, nor fully extended. Therefore, maximum strength is achieved when the elbow is bent at approximately a 45 degree angle, or the standard Sanchin arm position.
Sensei further demonstrated how that angle should maintained through a wide variety of techniques, including the Wa-uke block, as well as Hiraken blocks and strikes, eye strikes, and countless others. All of these techniques were practiced so that students could see for themselves the difference in the performance of the techniques under both sets of arm positions.
Another teaching tool that I hope to integrate into our classes is the concept of performing techniques, Kata and Kumite in various manners, as opposed to performing them in the same manner each and every time. By varying the manner in which they are performed, whether varying the tempo or the rhythm of the drills, the students learn to be more flexible in how they use their techniques, footwork and posture in order to maximize their effectiveness in any given situation. And, quite frankly, being flexible enough to modify how techniques are used is essential to being able to adapt to any possible scenario in which one might find oneself.