By Manuel T. Neves, Jr., Hachidan Uechiryu KarateDo, Godan, Okinawan KobuDo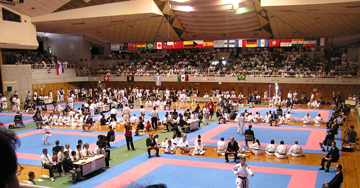 Recently, I, along with my son, Jared and daughter, Juliana had an opportunity to visit Okinawa. The main purpose of our visit was to see Yoshiharu Arakaki, Kaicho (Chief) of the World Uechiryu KarateDo Syoubukai Federation. He was moving the hombu (head) dojo of the federation (of which I am a member) from the Yaeguebaru District to the area of Gushikawa. I wanted to see it and be a part of the transition. Being one of Master Kanei Uechi's most dedicated students, he's doing a great job of keeping the dento (original) practice alive and well. We also went there for continuous KobuDo practice. KobuDo has become a significant part of our training at the Neves Karate Academy, both at the Lynn, MA and Plympton, Ma dojo.
We were able to also train at Arakaki Sensei's residence at Hamahiga Island in both KarateDo, KobuDo and Seitai. He brought us to Grandmaster Iha's dojo, in Urumasi, for practice in KobuDo. Mr Iha is the head of the RyuKonKai lineage.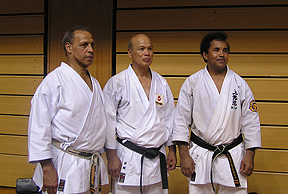 While in Okinawa, during August 14-16 the 2009 Okinawa Traditional KarateDo World Tournament was being held. Anyone who has ever participated in an Okinawan World oriented tournament can tell you the level of competition is extreme. The best practitioners from all parts of the globe get together to compete. At this particular venue, there were over 850 contestants with approximately 6,000 karateka and followers gathered together at the Okinawa Prefectural Hall of Martial Arts, Naha City.
The opening ceremonies actually started on August 13 with the dedication performances of the Living Cultural Properties at the Shuri Castle, which was the center of Okinawan martial arts in the past. Prayers were offered for the success of the tournament and for the worldwide progress of traditional karateDo. Grandmasters Shugoro Nakazato, Syorinryu, Ryukou Tomoyose, Uechiryu, Koshin Iha, Gojyuryu and Kousei Wakugawa Gojyuryu were the 10th dans and Living Cultural Properties who gave performances. It was mentioned that the 2009 Traditional KarateDo World Tournament will be held with a concept totally different from that of other international competitions in various countries.
I wondered what that could be having participated in a few of these in the past. If you haven't fully engaged your training and prepared fully you're not going to get past the first round. However, this tournament had something special to offer. They wanted and requested that all participants from throughout the world express the essence of traditional karate. Perform kata from your heart, show what's inside you. As they said, "perform kata after your own heart". There would be "no need to gain appraisal with loud performances or exaggerated actions". What a great concept.
The day after the tournament was held, this particular event held Seminars for people to further their knowlege of traditional Okinawan KarateDo and KobuDo. It's an opportunity to see old friends and make new ones from many parts of the world such as France, Finland, Italy, Sri Lanka, India, Mainland Japan, throughout South America, all parts of the US, etc. Such great instructors as Morio Higaonna, Gojuryu, Masahiro Nakamoto, Okinawa Kobudo, Kotaro Iha, Ryukyu Kobudo, Isamu Arakaki, Shorinryu, Zenpo Shimabukuro, Shorin-ryu, Kiyohide Shinjo, Uechiryu and several other high ranking Sensei were able to provide the highest in skill level so practitioners could take home new knowledge and skills. Something that stood out to me was a discussion about how Uechiryu became one of the three major schools of KarateDo along with Goju-ryu and Shorin-ryu.
We who practice U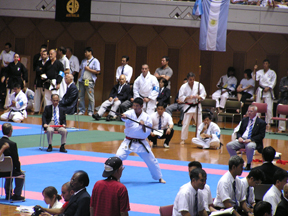 echi-ryu KarateDo know that it was the father-son team of Kanbun and Kanei Uechi who developed our beloved style, but it's development is also attributable to the father and son team of Ryuyu and Ryukou Tomoyose. Master Tomoyose reminded us that it was a young man named George E. Mattson, who opened the first Uechi-ryu dojo in the US. Sensei Mattson's book "The Way of Karate" is considered essential reading. Congratulations! Sensei Mattson for all your successes.