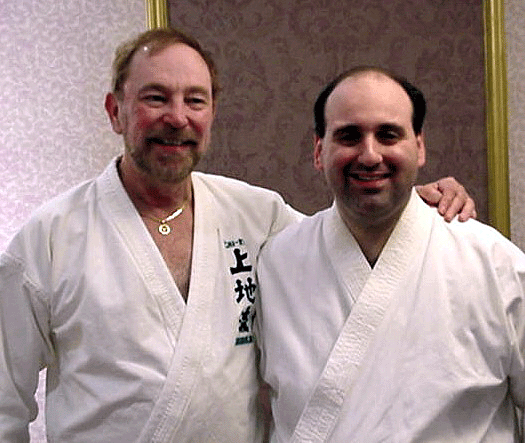 Dear Mr. Mattson:
First, let me say that I truly enjoyed the two days of Uechi-Ryu seminars that you provided to us here in Chicago. Your knowledge and years of experience are greatly appriciated.
Second, in response to your request to write down our thoughts on what we learned at the seminars, I would like to share with you the following thoughts:
The first thing that you emphasized was "A Return to the Basics." constantly throughout the seminar you always wents back to the very basics of Uechi-Ryu Karate-Do and its Katas. Proper form in Sanchin was always stressed in regards to arm positioning, whether the Sanchin stance was too wide or too narrow, and whether one was properly balanced in his/her Sanchin stance. We all know what proper form is, or at least we like to think we know what it is, but as you pointed out at the seminar one has to constantly be aware of proper form and stance or bad habits creep in over time that later on become very difficult to correct.
Next, was proper body mechanics, or the execution of strikes and stepping in Sanchin. Again, emphasis was put on form, but also something else that I found very easy to understand, but very difficult to execute to, although Mr. Kahn has worked very hard with me to develop, and that is one's strength and proper stance comes from locking into proper Sanchin positioning, and not from any muscle strength we may, or may not, have. For example, my shoulder's pop-up because I like the feel of generating power with my shoulder while executing my Sanchin strikes, which then translates into the rest of my strikes in all my Kata. However, what you emphasized is that shoulders must be down and power generated from the hips as well as appling the principles of TC (i.e Tourque & Compression).
Further, powerful Sanchin strikes are also produced from acceleration, which I understood it as different from speed. Speed as I understand it usually I aasociate with muscle force and, sometimes, lack of focus in the strike. However, what you were teaching us was that we needed to be relaxed. That our strikes needed to accelerate with power that then culminates at the end with a focused attack that has behind it all of our generated strength and power. Yet, all of this is performed with no muscle strength.
A point you made continually through the seminar is that its ok to be powerful when you are young because a young practitioner needs to get it out of his system so to speak. That it is when you are young that one can muscle through Karate, and have the strong strikes and kicks, but when you get older and more experienced in your Karate power can be generated, and I would argue more power, through proper Sanchin form, rotation of hips, bladding of Sanchin strikes and accelerating one's punches and kicks into one focused attack.
It is these basics that you taught us, and brought as back to, as well as putting a new and fresh perspective on proper Sanchin form and the generating of power through focused acceleration that made a very great impressing on me.
Next, I liked what I termed "Reality Katare." What you taught us is the same thing Sensei Kahn has been teaching us, which is, that in a fight our big beautiful flowery blocks will not block nothing. With the rush of adreniline and the suddeness of your opponent's attacks, one's blocks must be short, sweet and effective. A circle block on an initial attack, as in Kyu Kumite, becomes simply one's arms popping up into Sanchin position protecting your body and face. We execute big circle block because in the heat of battle that big block will compress into a small block, but whether big or small it MUST be effective!
The exercises we performed, through the use of Kyu Kumite, showed us the suddeness of attacks and the effectiveness, or ineffectiveness, of our blocks when we attempted to protect ourselves against attacks we knew were coming and from what side of our opponent's body. I learned that one must "Get His Arms Up" and into proper position, i.e. Sanchin Arm Positioning, so as to execute a proper block.
Further, you emphasized that in our guide blocks, we must not break the center-line of our bodies as this takes us out of Sanchin, which decreases our power, as well as not to block with our palm, but our whole forearm.
After, these concepts and principles were hammered home with Sanchin and the Kyu-Kumite exercises, we moved into Kata.
When it came to Kata we again returned to the basics in perfoming, and making sure we performed, traditional katas. This was very much welcomed as Sensei Kahn has always emphasized that good traditional kata must be perfomed with varying levels of acceleration and intensity. Kanchiwa is only perfomed a certain way, Seisan is only perfomed a certain way, etc. This is what we at Chicago Uechi-Ryu have constantly been working on, i.e. to perfect our Katas as much as possible.
Yet your approach to Kata was predicated upon your teachings on Sanchin. Foe what we do in Sanchin translated to our Katas. If we cannot generate power and proper acceleration in Sanchin we will not do it in the remainder of our Katas. This means that if we have been muscling it in Sanchin we will do the same in Kanchu, Seisan, etc. Thus, all goes back to Sanchin.
What impressed me the most is the porper body mechanics and balance one gets from Sanchin, which you showed us, and how this flows into all aspects of our Karate. In fact, what came through the seminars, from day one, was that you were teaching us from the ground up. Proper Sanchin means proper Kata. Proper Kata means properly executed strikes, blocks and kicks. Properly executed techniques means properly executed free fighting (i.e. sparring). Finally, proper free sparring means proper Karate-do that will protect you if the need arises, which will then allow you to live and go home in one piece.
Also, the over-arching theme, at least as I interpreted it, was acceleration and fluidity. Blocking and countering as one sigle flowing movement, and being able to sustain this fludity and acceleration from technique to technique. Further, what I also noticed that was taught, but may have not been called this, was "Imagination." What I mean by this is that many of us get "Locked" into doing Kata and Kumite and Bunkai a certain way. We anticipate certain punches coming from certain sides as well as certain kicks coming at us with a certain speed. That locks us into many bad habits.
Constantly throughout the seminar you taught us that if your hands are up and in proper Sanchin positioning it should not matter what the technique is and off of what side it comes–YOU WILL BE ABLE TO BLOCK IT! This is imagination. It forces the student to think on his feet and act on the fly. In fact, this is the very essence of our Karate. We do not do the Katas and the Bunkais for the sake of doing them, but to learn the techniques they give us and to apply them in avarity of ways in any given situation and altercation that may arise.
This is why, I believe you gave us all a piece of Seisan Bunkai and told us to put a variation on that piece of it that you gave us. One Bushkin to the face turns into many bushkins to the face, nose or throat. Also, after performing the Bushkins, you opponent is now dazed as well as injured, and, if the situation calls for it, add a take-down with a finishing move, etc. This is where the student's imagination is allowed to run free and it must run free otherwise they are just fancy looking techniques that are not applied in the real world (i.e. Reality Karate) nor applied properly (i.e. Basics). In fact, I would argue that a student's imagination, in the application of his Karate, is the very goal in the practice of Karate.
This is what I got out of the seminars Sensei Mattson. I hope I understood what you were attempting to teach us, and I will endeavor to apply what you taught us in my Karate. However, Sensei Kahn does a good job of keeping us all on the right track.
Very Truly Yours
Peter A. Papoutsis