One of the  most misunderstood concepts students have while training,
is the relationship of our Uechi-ryu art to actual fighting.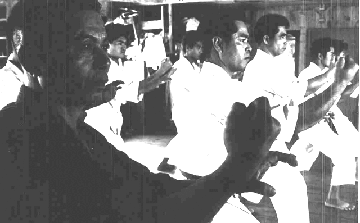 I often tell the story of my early training on Okinawa in the '50s and a new student who, after his first lesson, wanted to "test" his fighting skills in a bar, just using his newly learned Sanchin!
I tried to explain that Sanchin wasn't something you could simply "turn on" and win fights, but he couldn't be talked out of trying it out. Naturally the test ended badly for my buddy. It was embarrassing and laughable to the Marine he insulted . . . as he took his Sanchin stance and arm position, while readied to wreak havoc on his opponent. As I helped him up he told me "This Uechi crap isn't for me!" Of course, he never returned to class, which was probably a blessing for Tomoyose sensei and for Uechi-ryu in general.