Non-Physical Self-Defense
Marjorie Swift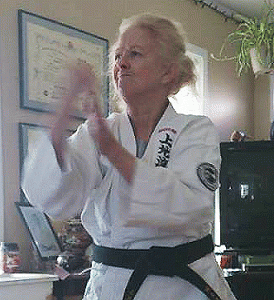 Mention self-defense & the average martial artist reviews all the techniques he or she has practiced many times.  Followed by the statement: This won't happen to me."
In this seminar, we will explore the statistics, starting with "Most crimes are committed by someone you know, not a stranger in a dark alley".
The most important skill you can cultivate is "awareness".  Learn to trust your 6th sense.  Learn the difference between assertive & aggressive.  Most people do not recognize a comment or "come-on" as the test of your receptiveness.
We will act out some scenarios with a partner.  Practicing a realistic response to a actual or perceived threat is much like practicing your karate moves.
We will conclude with the discussion of physical techniques.