Looking for old Friends!
Sensei,

I hope everything is well with you and Susan.

I'll be going to (to the U.K.) on May 5th. I've never met Terry Daley Sensei, and since i visit the U.K so often, it would be nice to meet him.

Would you happen to have his contact info?

I'll soon be sending a list of the camp attendees and those requiring grading. Of course in Bda., commitment to Air-fares are first, then everything else follows.

Best Regards,

Al
Terry's phone number enclosed Al. Pleased to hear Bermuda will be well represented at this years' camp. GEM
---
Hello,
I am a former student of Uechi Ryu Karetedo Kenukai in Saint Louis under James Foley. Would you happen to know his email address or how I might reach him? Thank You for your time
Sincerely,
Stephen Beishir
My most recent info is on our "dojo listings" Stephen. GEM
---
Hi George:

How are things going, I hope you are all settled in. Would you please e-mail me the dates and times of your classes. I would like to come up and join your class a couple of times a month if that is possible. Take care hit them long and straight.

Jon Cierri
Still hitting them long and into the woods! :) Looking forward to working out with you again. Maybe we can go out afterwards and hit a few balls into the woods! GEM
---
GREATER NOWHERES
WANDERINGS ACROSS THE OUTBACK

Contact: Jane Reilly, Senior Publicist (203) 458-4538 - (800) 962-0973, ext. 4538 jane.reilly@lyonspress.com
"Delightful… Finkelstein and London write well. Their account is filled with engaging descriptions of beautiful, forbidding landscapes, the tough bush boys they meet and the lore of the Godforsaken town…[Their] trip is not for every traveler. But their book is." -Chicago Tribune
"The reason to read this book is the myriad brief encounters, many of which are hilarious." -Los Angeles Times Book Review
"…a fine volume in the literature of unpleasant but enlightened travel." -Outside Magazine
"Always exciting, sometimes hilarious… The perfect gift for the armchair traveler." ---Travel & Leisure
"A vivid book…bound to attract attention. ---Toronto Globe and Mail
"… gives us a rare view of the bush and its extremes of weather, of distance, and of character. You'll enjoy it even if you don't get there yourself." -New York Post
"A pleasure." -The New York Times Book Review

Talk about classic returns. Dave Finkelstein and Jack London's immensely popular, wildly funny, and critically acclaimed book GREATER NOWHERES: WANDERINGS ACROSS THE OUTBACK, which was first published almost two decades ago, is back-this time in paperback and with a new introduction by Dave Finkelstein-to give delight to a new generation of readers.
The book is a must for those with a penchant for exciting adventure tales, as well as for armchair travelers and lovers of humorous "on-the-road" stories--in this case, off-the-road, "bush-bashing" stories--here brilliantly and poignantly told by two oddly compatible traveling companions, one the Irish romantic, the other the Talmudic rationalist.
Driving a Toyota 4-wheel-drive truck and armed with snake boots, an "esky" full of beer, and an insatiable appetite for adventure, intrepid journalists Dave Finkelstein and Jack London set out into the Australian bush in pursuit of the fearsome saltwater crocodile, a huge, notoriously dangerous reptile with an equally insatiable appetite for humans.
Though the "salties" prove elusive, in their travels the authors stumble upon a diverse and outrageously entertaining cast of dinki-di Australian characters-sun-hardened men and strong-willed woman--eking out an existence in the croc's hardscrabble, primordial habitat: stockmen, aborigines, "roo" hunters, bushrangers, latter-day pioneers, escapists, and outright lunatics. In ramshackle pubs along desolate stretches of dusty track, shantytown settlements in the middle of nowhere, and million-acre cattle stations hundreds of miles from their nearest neighbors, they experience an Australia rarely seen by the average traveler: dwarf-throwing contests, cold spaghetti sandwiches, even a regional rash called "Karumba rot"-the inevitable souvenir of a visit to the forbidding Gulf of Carpentaria, with its swelteringly oppressive tropical climate. Yet, like no other observers before them, in their celebration of the Outback and its inhabitants, the authors (described by one reviewer as "at least as amusing as the extravagant characters they meet") get to the heart and fiber of the Australian soul, to the very essence of what makes Australia the unique and marvelous country it is.
As author Jim Harrison says, "GREATER NOWHERES is an absolutely wonderful book… a classic of travel literature. It's unthinkable that anyone would go to Australia without first reading this book."
Rich in the history and geography of a vast, fascinating continent, GREATER NOWHERES (Lyons Press, $14.95 Trade Paperback, April 15, 2005) is also an exploration of solitude, mateship, contemplation, and adventure.
DAVE FINKELSTEIN, a graduate of Harvard Law School, had a legal career distinguish-ed only by its brevity-one month. Fluent in Mandarin, he went on to become a Chinese interpreter for the U.S.Department of State--the first language student of his generation to qualify for that position--then the Ford Foundation's first China specialist. Now a freelance writer, he has written about political and wildlife issues throughout the world. His articles have appeared in numerous publications, including The New Yorker, New York Times, and Washington Post. A flamenco guitarist and avid fisherman, he also holds an 8th degree in Okinawan karate. He lives in New York City.
JACK LONDON'S work has appeared in Audubon, Sports Afield, the Miami Herald, and The London Observer. A former English professor, he lives in Key West, Florida.
Greater Nowheres Wanderings Across the Outback Dave Finkelstein and Jack London With a new introduction by Dave Finkelstein Foreword by Philip Caputo $14.95 Trade Paper $21.95 in Canada 320 Pages 5.50 X 8.5 ISBN: 1-59228-396-9 April15, 2005
---
New Kyusho Book from our friend, Evan Pantazi!
Dear George,

I hope the move for you went smoothly and you have not hurt yourself Golfing too much!

As you may know I have been writing a couple of Books, the first of which is due out in May, 2005.

The publisher wanted a few forwards written so they could select what they need. If you would be interested, please write a forward for the book on Kyusho Jitsu.

The catch is I was also told they I need it by next Friday... February 4th, 2005.

I am mailing this as I respect what you have done for the Martial Arts in America as well as all of the courtesies you have given me over the years. It is and has been an honor Sir.

In appreciation, and please convey my best wishes to Susan as well.

Evan Pantazi
www.kyusho.com
Will do Evan. I like those tough deadlines! :) GEM

---
Interesting Mail from people wanting to study Uechi-ryu!
Dear Sir,
While I was surfing on the net I found your information about your style. I found your style impressive and very effective. From now on I'm trying to find more information about your style. Unfortunately there are very less about it in my country.
I'm a second degree black belt in both shidokan and shotokan karate also I'm the owner of a dojo in Ankara (the capital city of Turkey). Karate is not only a kind of sport or a self defense method for me. It's my way of life and I think your style will help me to improve myself and my students. As I mentioned before I'm very interested in your style and if possible I want to learn and than I want to teach it to my students. If you can send me more details about your style and information about how can I be a member of your organisation I will be very glad.
Hoping to hearing from you soon
Best wishes
Muhittin Ercan BILGIN
---
Thank you for your reply Sensei Mattson,

I will be driving over to Eustis tonight to meet you and Sensei Berndt and observe the class. I haven't been able to purchase a new gi yet... so I'll bring some sweats and athletic shoes to participate with just in case that may be possible.

I've heard many great things about you for so long. Truly looking forward to meeting you tonight.

Sincerely,

Kerry McDonough
Always pleased to meet and workout with former Uechi students. GEM
---
Subject: Re: I WANT HALP FROM YOU .I ALSO INTERESTED TO JOIN H.Q.ALSO IN YOUR COMMING EVENT
Date: Mon, 31 Jan 2005 07:22:02 +0000
RESPECTED SENSEI FIRST OF ALL,TAKE MY OSS!HOPE YOU ARE WELL. IAM ALSO WELL WITH MY FAMELY BY THE MERSEY OF GOD. I WANT TO SEE YOU SENSEI .WE WANT TO VIDSIT POLAND.
WE ARE INTERESTED TO GIVE YOUR AIR TICKET U.S.A TO POLAND TO U.S.A.PLEASE GIVE YOU YOUR PHON NUMBER . SENSEI YOU WROTE THAT WE ARE NOT INTERESTED TO VISIT USA.THAT IS WRONG .U.S.A IS BEST COUNTRY IN THE WORLD.BUT U.S.A VISA IS TO MUCH TUF.SO WE ARE INTERESTED TO GO POLAND. PLEASE GIVE ME ALL THE DETALS.WE ARE MEET IN POLAND VERY SOON. OSS! SENSEI
YOUR STUDENT
SOWMEN .
Any IUKF sensei interested in visiting Poland? GEM
---
Last Wednesday evening, I visited the Stoughton dojo. I would like to thank you for recommending them. I very much enjoyed working out with their class. I was lucky enough to participate in a class taught by Marlin.
I was very much impressed with their dojo. The students and staff were very friendly, and I really enjoyed class. As I went back to work at the customers site on Thursday, I no longer felt 1300 miles from home; but a little more connected, now that I had friends in the area! ( I also had that good feeling you get after a work out, too!)
Thank you
Jim Ingram Lincoln NE
:) GEM
---
SummerFest Questions and Updates
Sir:
Do you offer sleep over karate camps for boys ages 10 - 12?
Children must be accompanied by a parent or guardian. We are not equipped to supervise unaccompanied children. We do have really exciting programs for children though, but a parent or guardian must remain on-site during the program
---
This year Sensei Robert Hunt will introduce several weapons forms (bo, sai or tonfa) and follow up on the bo kata he presented in 2004, Tokumine-no-kon sho, with the longer form Tokumine-no-kon dai. Sensei Hunt will also be giving a presentation on the history of karate. Additionally he will be holding a discussion group and question and answer session on his novel "The Art and the Way" in relation to the history of karate and some advance information about his next book "One Moon".
---
Dear George - Happy New Year! I hope that all is fine and dandy with you both (and Tia) following your move to Florida.
I see from the Uechi Ryu web-site that this years Summer Fest is scheduled for the 12-14th August. I take it that as usual, it will be held somewhere on the East Coast? Do you have any firm plans yet as to the location?
Sincerely,
Barrie H.....
This year's SummerFest will be held again at the Mass Maritime Academy in Bourne, MA. Hope you can make it Barrie. GEM
---
DVD playing problems
Received the dvd's. Thankyou, however on playing them it seems the dvd's are faulty,
No1 DVD played for 67 minutes 29 seconds.
No2 DVD played for 25 minutes 28 seconds
No3 DVD played for 25 minutes 39 seconds

Could you please advise
Many Thanks
Phil T...
Woops.... I just found out that DVDs should not have a separate label attached to the face of the disk. Some DVD players will have problems reading a disk where the label is not attached perfectly. On the few "returns" where customers could not play the DVD, we found that they worked perfectly on our machines. We just purchased a new disk engraving machine, that will do away with this problem. GEM
---
Compai!
....absent Friends, Here's a bit of news that those of you single malt fanatics might be intrigued by: Recently at local bar in Brookline, the Washington Street Tavern -- a distant cousin of the Matt Murphy pub on Harvard Ave -- I tried a rock glass of scotch of a different strype. Here's the story, not being much of a scotch drinker, I generally steer towards the bourbon instead, this was a bit of a daredevil maneuver. Certainly, since the last time I had scotch....that's another story. I can safely say that this was not bad at all! Talisker Scotch 10 year old, from the Isle of Skye was distinctive, has a bright peppery flavor that bursts like a popped balloon. The price was steep so buy by the bottle and shed the brown paper bag --- show off the label! Good day to you, Sir!
Ethan B. Miller

---
Kanbun or Kanbun?
Sensei Mattson:
Do you know why some texts spell Uechi Kanbun's name K-a-n-b-u-m and others spell it K-a-n-b-u-n? Are both correct?
I think I've got a main focus now for my little documentary. It's going to largely have a West Michigan focus, because there is a great lineage in this area and not a lot documented on video or text. However, your original 1971 booklets, "Master Kanei Uechi's Karate" provide an outstanding historical document. I will be sure to credit you if I ever use anything. The interview segment we shot in Florida is superb.
Regards,
Jim Gemmell Grand Rapids
Jim: BTW, I'll be publishing your articles in the "Articles" section later this week. GEM
A Look Back at a time when we were "all together"!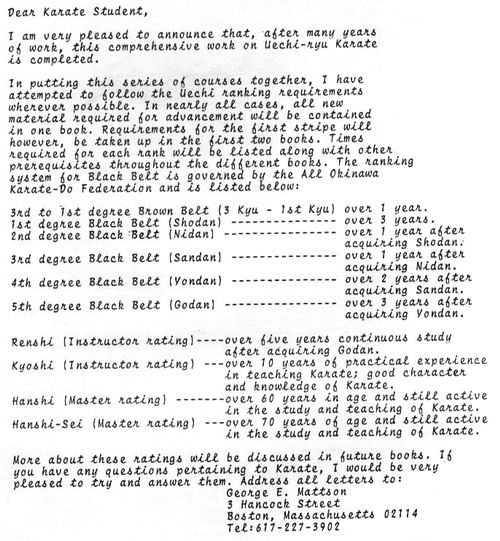 ---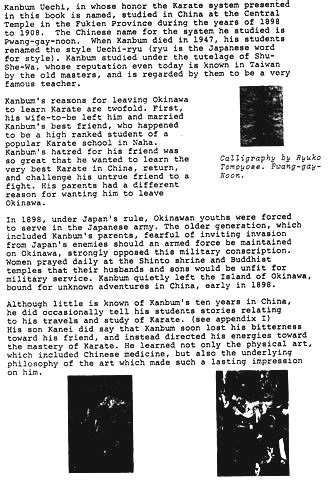 ---
Wish it were True Department!
Hi,
I will like to place an order for:
Polo shirts
Qty:40
Size:Large
Tshirts
Qty:40
Size:Large
Suggest shipping cost for the shirts Via Post Office Airmail 7-10 days to Nigeria..What credit cards do you take?? Please confirm your availability of the shirts.

Please advise,
Thank you.
Olabode John...
Why thanks for this generous order Mr. Olabode. Unfortunately, the credit card submitted is one of thousands of numbers that your gang has stolen from unwarry people and if I put the order through, I must reimburse the credit card company! So, please do business elsewhere. :) GEM

---
Dojo Updates!
Hi George:

Could you please list my dojo in the dojo directory?

Wendi Barker - Tiger Martial Arts - Freeland WA - tigerspirit@whidbey.com

Thank you!

Wendi
---
Allen L. Moulton's Last message to Uechi practitioners
Hello George.
I have been reading with interest the "Myth of Higher Standards." I WAS impressed with YOUR response, the opposite with others, and a few in between.
I feel that the new black belt test board is the best thing that's happened to Uechi-ryu in years.
Fortunately for me I have enjoyed years of being involved in testing of other styles as well as Uechi.
The formula for making Uechi testing successful for all concerned is so simple that it's beyond belief that no one sees it yet. Only 2 things are required to make Uechi testing superlative. However, the IUKF test board is moving in that direction -- and that makes me happy.
Best to you in your move and relocation.
Allen
---
Views from the quiet majority!
Dear George,
I am disappointed when I read articles where people hesitate of uechi-ryu style effectiveness. I see that in your web site very often arise discussions, which are better so called"classics" or "realists", but I think that there are karate classical movements application in real fighting – this is realistic classic", and without this classic impossible to fight, especially against few assaulters. I am very disappointed, that so called "realists", belittle uechi-ryu stile, which from my pint of view is the most effective and practical stile. I practiced this stile 40 years and can prove that this stile is very practical if done properly. Discussions among "classics" and "realists" inspired me to write this letter.
George, for many years You have done great work organizing uechi-ryu karate federation and school. You have written books and articles and have made this kind of martial art popular in all over the world. You provide seminars, summer camps and many other activities. I think this is natural that You have no time to think and to ask question: is this uechi-ryu the same stile which Kanbun use to teach?
I think there is only a shadow of real uechi-ryu. What I see in your video, even the best masters hardly can implement their movements and technic in real fighting. So there is the source of such discussions.
You George have written that karate teacher must know karate very well if he wants to be good teacher. Because every karate teacher must be able to demonstrate program requirements. I think, that karate teacher must be able not only to demonstrate program requirements but also to have capacity to guide his students. He must to know how to guide and teach his students and this is great art.
Best regards.
V.R. Macius

UECHI-RYU IN REAL FIGHTING
by V.R. Macius

We can have many discussions on this topic, but we all want to know how can we attain ability of effective self-defense, using "classical" karate movements. I think, that most of people who come to karate schools want attain ability of self defense and only after few years training they are going to take part in sport competitions.

But most of them don't know how real fighting looks, because training in dojo with sparing partners and according rules, that eliminate dangerous kicks and punches is very different from real fighting where you are in very dangerous situation without any rules and referee.

I think that aim of karate training is going to change after long years training, when student understands that the most important thing in martial art is physical and spiritual development.

First and most important requirement of martial art is to be good will person. Then inner being will be in balance and student is able to study martial art. About this topic we can speak very much and this is even separate topic. This inner attitude usually comes to students after long years training. In the beginning it looks like paradox. Why students who wants to be karate man has to be good will person.

But it looks like paradox only in the beginning. Long history of martial art proves this thing. Martial arts have been created by Buddhist monks and they new that most important thing. I repeat that this is one of great martial art secrets and there are few very important secrets in martial art.

Many karate students and teachers fell, that they are not satisfied of their karate training. I think that what they need is very close. Slight change in your karate activity can bring you what you need.

Dear George, you have written in your letter to me in 1977 year, that I have to make my training according your book "The Way of Karate" and that I have to go my way and look not only what is written but to think about things that are not written directly.

Long years karate in our country was forbidden, there was no any competition. Our aim of training was self-defense in real situations. We trained very hard because we new that each lesson (training) can be the last one. Our country gained independence in 1991, since that year my work have become teaching of Lithuanian president bodyguards.

Here I was able to implement all my experience and knowledge. I tried to create teaching system and to apply uechi-ryu in real situations. Mr. Van Cann in his article "self defense in reality" have written that very often man in real situation experience shock, and fear do not let him to use his skill of self-defense.

I think that if during long years training movements are established in students sub consciousness there is probability that body will make self-defense movements automatically. To gain such self- defense reflexes there are training methods. Those training methods include not only training of movements but also inner attitude that is very important in training process. Those training methods have been verified in practice.

And again there is a question why karate students even after long years training hesitate about their ability of self-defense in real situation? The answer can be that during training process students want to gain belts as soon as possible, so they are in hurry and they miss very important steps and afterwards they are not able to go further. They miss fundamental things from very beginning! Everybody knows that if little child cannot stand is to early for him try to run.

First and very important thing is to learn stances and students have to start from "Zenkucu", "Kokucu", "Kiba" and only after they can to learn "Sanchin". If students start learning from "Sanchin" they will have problems in real fighting. Training with jars is good for nothing.

Stances in karate is wide topic, I would like to say only one thing, that to learn stances each stance has at least 5 indispensable requirements. Without such requirements your fighting will be not effective enough. If student is not able to stand properly, he cannot make blocks effectively and in time, so his ability to contraatacking is not good. I have seen many black belt masters who don't implement those 5 requirements and their fighting is not nice and effective enough.

When I read articles in your Web site I see that people sometimes hesitate about uechi-ryu school effectiveness. From my point of view IUKF program little changed can be effective until you reach black belt level. I prefer to be with white belt but to have black belt skill, than to have black belt and to be in white belt level.

Certainly you can ask: does our stances and movements are not good, does our punches and kicks are not correct? I can answer: your stances and movements are good inside uechi-ryu school and tournaments but not fit in real fighting. If you want effectively fight in real situations you have to change your movements, particularly stances and blocking movements trajectory. After long years monitoring by special equipments I see that speed of blocks and other movements depends on right trajectory and only a little of physical strength. More important is capacity to be relaxed during fighting and to have right trajectory of all movements.

There are special methodic to gain such condition. Using these methods after long years training when practitioner becomes older his motions becomes more and more fast and old age doesn't matter. Energy "CHI" starts to move in your body and helps you to be stronger even faster then many young people. I am older than 60 years, but my movements are much more faster than 30 years before. To gain such condition there is indispensable to use proper breathing. Breathing which usually they use in "Sanchin" is not good. This breathing is good in case if you want to develop strong punch only. We use a little changed "Buteikos" breathing.
In real situation assault usually is very fast and unexpected, when men stand "normally" without preparation, not in stances but like you stand normally with hands down. The best body reaction in this situation is step back in to "Stance" and block, after contraatacking.

In higher level blocking and contraatacking goes in the same time. There is no time for jumping like in tournaments. So again and again I repeat that the most important thing is proper movements because attack is usually not one punch or kick but punches and kicks that goes one after another very fast and often happens that you are against few assaulters.

To attain required condition students have to study many years. First time I have heard about karate in 1964, and since that time have passed 40 years. Those 40 years of searching and hard training gave me more than I expected at the beginning.

I would like to say few words about katas. They are indispensable part of training. First of all students have to learn "FORM" and only when they can perform movements properly possible to learn speed of movements to learn strength and etc. For example "Kanshiva" kata student have to study at least one year. Kata is main defense and attack movements. When You learn kata, you actually learn main blocks and punches, contraatacks and hidden fighting combinations.

When student learn kata in subconsciousness he writes right trajectory movements. Only in this case your kata learning will be useful in reality. Kata is good only in case if katas movements are completed properly. I remember that You George have written, that "Sanchin" kata has come from Bodhitharma times. This thing have inspired me for new quest and I thing that there is different "Sanchin" kata performance, application and different breathing from performance I see in IUKF.

This different performance has no bad results to your body.

I am writing about our school uechi-ryu main rules and guides, because I want to say, that we didn't change classical movements, but on the contrary we do classical movements. From my point of view now in many schools those classical movements are performed in wrong way and lost true meaning which new pioneers of martial art many centuries ago. This is the main thing why arose discussion who are stronger "classicals" or "realists". I am convinced that TRUE "classicals" are the best "realists".

In old times when katas have been created there was no tournaments and sport karate. Everybody has studied katas to gain ability of self-defense, not to gain belts and ranks; so all "classics" were real fighters.

I would like to know your point of view about this topic.
Best regards.
Sensei V.R. Macius.

Wow. . . A wonderful article and many, many points to consider. I am always happy to hear from people who have "been there, done that" and who can say that our traditionally taught Uechi-ryu works. Of course, you have learned on your own, what many of us now understand about blending the old with the new. . . making for a formidable and effective fighting system. GEM