Note: In the course of a month I get literally thousands of e-mail. I don't normally place correspondence in the "Mailbag" that are either labeled "personal" or contain information of a personal nature. As I read and answer mail, if I find a letter that I find interesting, amusing, topical or educational, it gets filed in my "mailbag" for future use in this feature. I try to edit out any personal information like addresses or telephone numbers, unless the writer specifically requests that I publish it.
I welcome all e-mail and will answer everyone in as timely a manner as possible. Don't be surprised if you find (or don't find) your message in this section. However, if you are concerned about your letter finding its way into the "Mailbag", simply include in the header or at the beginning of message "personal" and I will honor your request. GEM
---
Good Deeds and Nice People in the Uechi World!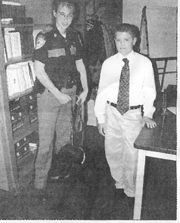 'Edge' gets canine vest '
BY PHILIP LAURIA T OSSIPEE -
Because of the efforts of a 12 year-old Sandwich resident, a Carroll County Sheriff's Department officer has a new bulletproof vest. Edge is a narcotics dog. He didn't know Forrest Elliot, the young man who took it upon himself to equip the two year-old black labrador retriever with a specially-fitted canine bulletproof vest. But he may live longer for having met him. Elliot raised $1,403 in less than two months.
The vest cost $725; he donated the rest of the money to the Sheriff's Department for expenses related to the care of Edge. Elliot, a seventh-grader at Inter-Lakes Middle School, raised the money by raffling off an Irish quilt he had knitted in 2003. The raffle raised $348. Elliot wasn't done, though. Taking pledges . for a karate kick-a-thon in which he performed 400 kicks, Elliot raised another $465.
After that, another $590 was donated to his cause. But where did his cause come from? Where would a kid get such an idea? Elliot got his idea the old-fashioned way: he read about it. In the back of the book "Chicken Soup for the Pre-Teen Soul," a web page was listed that told how to raise money for a canine bulletproof vest. "We sent for an information package, and just went from there," said Elliot. Elliot presented the vest to Edge and his handler, Deputy Sheriff Brittney Perley, in front of a room full of law enforcement personnel at the Carroll County Sheriff's Office in Ossipee last Wednesday (April 27). He made a brief speech after helping slip the vest onto Edge. "I actually had fun doing this," Elliot said. "It's something that I will not forget." Deputy Perley said she was very attached to Edge, and greatly appreciated the gift. "I would specifically like to thank you," she said. "As you know, Edge and I spend a lot of time together. He's my partner, and I actually probably spend more time with him than I do the rest of my family. So it's really important that he stays safe and that I can do everything that is possible to keep him in my life and working for the Sheriff's office. So thank you for doing this to help keep my partner alive for longer."
Edge, who began working for the Sheriff's Department last year, has already participated in 10 warrants that led to arrests, said Captain Jon Hebert, also on hand for the ceremony. "He's already identified, in the field, marijuana, cocaine, and other drugs," Herbert said. "He's got a very good nose." Edge is currently working towards a search and rescue certification, according to Captain Hebert. He will serve as both a narcotics dog and a rescue dog for the Sheriff's Department. ---
---
Spring IUKF Black Belt Tests Photos
| | |
| --- | --- |
| | |
| Harvey Liebergott, promoted to Godan | Gerry Gross, promoted to Godan |
| | |
| Harry Skeffington, promoted to Godan | Terrance Paul, promoted to Sandan |
| | |
| Ovidio F. Raffa, promoted to Nidan | Thanks to Mike Foley for taking the photographs |
---
Happy Students!
Mr. Mattson,
I attended my first class with Pat Saunders today which was great. I noticed a small poster on the dojo wall that she mentioned was from one of your summer camps and I wanted to ask if you had another that I could purchase. (the uechi-ryu symbol with the dragon/tiger/crane)
Also I am working on my fathers Memorial for the website which I appreciate once again and will send it to you upon completion. Thanks again for everything and I look forward to hearing from you.
Sincerely, Brett Heffernan
I'll try to find one of our last year's SummerFest posters and will send it to you Brett. GEM
---
SummerFest Questions!
Dear Mr. Mattson,
I just noticed that I never mailed in the applications for me and my son for Summerfest. Is there still room at the on-site location?
Thanks!
Neil Weiche
Still lots of room Neil! Looking forward to seeing you at camp. GEM
---
George,

First I regret I was not able to attend the recent Uechi Championships. I enjoy attending since I am studying mostly on my own these days (I have one student who I have been teaching for around 5 years) and the tournament gives me an opportunity to watch and learn.

Second I enjoyed your articles on Uechi breathing BUT could not view the videos. Windows player gave me an error: "Source Filter for this file could not be loaded." This could be an issue unique to my system but I pass it along in case others have the same issue.

I hope to visit Fedele a few times this summer while in RI but it's a long drive to Natick from Bristol RI. Actually it's more the traffice than the miles!

Regards,
Norm

See you at Summer Camp
Update your Windows Media Player Norm. See you at camp! GEM
---
New Kid's Forum!
George,
My daughter Jessie (13) is interested in hosting a childrens forum. Kids will be able to talk about the tournaments and other things. She is a very good, prolific writer. If this is something of interest, let me know.

I could oversee her moderating.

Fred Channel
Great idea Fred. Lets do it! GEM
---
Kind Words and a Correction!
Hi George,
I hope that you and Susan had a pleasant Memorial Day.
I have been enjoying the dvd's I just rec'd from you and am finding tons of useful material both for my own development as well as to incorporate into my classes.
FYI - vid mag 18A - Kanei's Birthday is incorrect - dvd says June 22, 1911 - s/b June 26th?
:-)
John
Just Kind Words! :)
Hi there
I train with Bob donnelly in Australia and we were talking about your website the other day. It has helped me with my Seisan and I like all the footage you have.

Bob was saying the other day that he would like to get in touch with you, and had some really nice things to say.
He as you know also trained with Mr. Uechi, and often speaks about his many times training in Okinawa.

My website: www.roshillsconstructions.com.au I would look forward to hearing from you, and to pass on any messages to Bob, if you would like.
Best regards.
John Rostirolla.
Student.

---
Hello sir,
I am a friend/former student of Joe Pomfret, and I had seen an instructional DVD he made of the submission holds and take downs. He told me to get in contact with you to see about obtaining the DVD. I am currently in DC training with the State Department, in Diplomatic Security, and would love to see the video again. Anything you could do to let me know how to get a copy would be great. Thank you.

Sincerely,
Bruce Palombo
An excellent instructional tape/dvd. It and a second dvd by Joe may be found in the Uechi store.
---
Mr. Mattson,
I have been doing research on my father who passed away about 15 years ago. His Karate teacher was Harry E. Brawley, Jr. in Norwood back a number of years ago. I was looking up his name and kept coming across yours and hoped you could help me possibly contact him via email or mail. Any information would be appreciated. I am in the beginning statges of martial arts but wanted to stay the path of my father which I am only to assume was whatever the "Mattson Academy of Karate" teaches. Thank you so much for any helpful information on the style of karate and Mr. Brawley. Have a great day.
Sincerely,
Brett Heffernan
Hi Brett: Good to hear from you and sorry to hear about your father. Harry has been "retired" for a number of years and now lives on a house boat in Maine! Your father (whom I remember) studied Uechi-ryu at my Norwood dojo. Where do you live now? I'll try to get you into a good dojo. If you have a picture and bio for your father, I'll post it in our "Memorial" site.George,
=========================
Mr Mattson,
That is great! I will see what I can do to write up a bio and get a picture to you for the memorial site I am sure he would love that. Did you teach my father or was it Harry?
I look forward to hearing from you again. Thanks alot for the infomation it is much appreciated. Talk to you soon.
Sincerely,
Brett Heffernan
---
Greetings from Venezuela:
the reason for the present is to give to him to a great greeting, locate its Web page by chance and very interesting just as IUKF Argentina, the reason for the present is the one to have information on organizacion that You preside over since in my pais do not exist schools of Uechi ryu Karate Do, at the present time I am 5to Dan de Goju Ryu Karate and kobudo. reason by that nobody that of the information can give in way to concoer to his organization. Congratulations
Oss
Noé Rodríguez Sensei
Venezuela
I'll put you in touch with Carlos Ciriza. Good luck with your training. GEM
---
Looking for a dojo/instructor
Dear George
Thank you for all the work you do, and for keeping me informed.
One of our familes and friends are moveing to America to live, and start a bussiness.
Although we are not Uechi ryu we do have an interest.
Renshi Jim Haulse has provided us with some insight and as a concequence, I feel that my friends will benifite best if they enrole into Uechi ryu karate when they arrive in America.
. . . They are moving to North West Tampa in Florida
I was hoping you could give us a a Name and address of a Sensei and Dojo who teach children, and adults in or near this area. I would be grateful if you could forward to me this information.
PS Martin Watts (White Crane Martin sends his regards) We train together while he is here in the UK before he returns to spain.
Thank you again

Graham_Moughton
---
Dear Mr. Mattson!

Although I have a ton of questions I am limiting myself to just one: Do you know if there are any legitimate Uechi practitioners/sensei in Finland? Officially there are no Dojos in Finland, but perhaps there might be someone who practices the art, and could teach it.

Kind regards

Juha Rantakari, Helsinki, Finland
Hi Juha:
Unfortunately, I don't think so. I'll post your email in the June mailbag and you can also post something in our "looking for dojo/instructor" Forum.
Of course you can always come over here to train and open your own Uechi dojo when you return! :) GEM
===============================
Ok, thanks. Still a question. I do have your old book, The Way of Karate. In the book you've explained Sanchin and Seisan katas with illustrations. I have trained Wado-ryu. We don't have Sanchin, and Wado Seishan is something completely different from your Seisan. Do you think I could somehow get the idea of Sanchin by following the books instructions, watching the video clips on your site, and perhaps learning the Goju-ryu Sanchin? Is the Goju Sanchin very different from Uechi Sanchin? One of my Senseis is the coach for the Finnish national kata competition team, I believe she knows the Goju version. If I could persuade her to take some time to teach me this could be a solution. I am not concerned with the movements and patterns, it is the breathing and tension-relaxation that is hard to grasp without proper guidance.

If you think this will lead to the wrong road, then I will just drop the idea. I don´t want to learn something wrong.

Rgds

Juha
==========================
Thanks very much for your answer. I sorry to hear that, although I suspected it anyway. I haven't heard anything about Uechi-ryu in Finland. A big loss I believe. I'd really appreciate the chance to meet someone who could at least show me in person the katas. I'd love to come over to train, but I think I can't spend the next ten years in US right now :) We have frieds living in Munich, Germany. There is a dojo there, I might try to visit them next time I am in Germany.

As I am no teenager anymore (just turned forty) I tend to appreciate the health and spiritual/mental aspects more every day. I have the feeling Uechi-tyu could fullfill these needs as well. I'm fully serious, if I you know of a Uechi practitioner studying or working in Finland, I'd like to contact her/him.

Kind regards

Juha
---
From: Branham SSgt Roland C
Subject: UECHIRYU SOUTH CAROLINA
Sir, I am currently studying UechiRyu in Okinawa. I will be stationed in South Carolina within the next few months. Do you know of any Uechi Ryu schools in SC? Thankyou, Roland

Good day SSgt Branham:
Thanks for writing. I don't know of any dojo in SC, but chances are there are practitioners there who don't stay in touch. Most of the Uechi world reads the Uechi site though and with your permission I'll add your email to my June "Mailbag". Most times someone will respond with names and tel numbers of other Uechi people, which may be of help to you.
What rank are you? Where do you study? Teacher?
I hope you will stay in touch, now that you have found me. Lots of great things happening to Uechi-ryu here in the USA, especially New England. I just moved to Florida, but travel around quite a bit.
If possible, try to attend SummerFest in August. Everyone shows up there.
Best, George Ps. You might post something in the "Looking for a dojo/teacher" Forum. Good luck.
Sir, Please add my email to your mailbag. I am a 6th Kyu under Asakiyo Kiyuna of the Kitamae Dojo. Thankyou for your help and for the info on the Summerfest.

SSgt Branham
---
Dear MR.Mattson,
Hello sir. I understand you are a busy man. I'll try to keep this e-mail short. I've trained in shito-ryu for 3 years back when i was 15 years old until 19 years old. I went on to train in wing chun for about a year and a half but found it wasn't my cup of tea. I left karate behind and martial arts altogether. I'm 27 now and I want to study and train in karate again, but the only problem is I haven't found a dojo in my area. Could you please tell me is there a uechi-ryu dojo in my area? I live in San Antonio, TX.
Thank you for you time.
John L.
---
What an Opportunity! Bill Bauknecht as a Calendar Model!
Hi George,
I'm pretty sure I told you that I was chosen to be one of the months in the 2006 Bone Marrow Transplant Assoc. yearly calendar. They called me today and everything is all set with me. The write up and the pics, they just wanted to confirm that all was OK with it.
Anyway, they want me to send them all information like, local newspapers, papers back in Ohio, any associations I am connected with, Chamber of Commerce and such. My martial arts is mentioned in the write up and being connected with our Uechi association I plan on giving them that info. They will just send a flyer or something telling about my being in the calendar and of course since it is for fund raising, (non profit organization) they are looking to sell calendars to people who know me and such. So if it's OK with you, can you post it somewhere on the web page? And if so where should I have them send the info? To your PO address? It won't cost you any money, I think it will just tell what it is and give the address and the web site where the calendars can be purchased. I think they are like $12.
I have seen both the 04 and 05 ones and they really are nice wall calendars. Of course with me in there, well, down the tubes they go. lol. They are supposed to be ready sometime in August. Let me know if it's OK, I won't give them any info until I hear from you. Hope you are both good. That cancer growth is back on my eye. No big deal, just close to a tear duct and they want to dig it out. Played golf today, I'm really rotten. I can't break 90 now. BUT,,,I still enjoy the pain. lol....Take care, best to Susan.
Bill
I can't wait to see this calendar Bill! Let me know how I can purchase one. GEM
---
Point of View!
Dear George,
I am disappointed when I read articles where people hesitate of uechi-ryu style effectiveness. I see that in your web site very often arise discussions, which are better so coled "classics" or "realists", but I think that there are karate classical movements application in real fighting – this is realistic classic", and without this classic impossible to fight, especially against few assaulters. I am very disappointed, that so called "realists", belittle uechi-ryu stile, which from my pint of view is the most effective and practical stile. I practise this stile 40 years and can prove that this stile is very practical if done properly. Discussions among "classics" and "realists" inspired me to write this letter.
Dear George, for many years You have done great work organizing uechi-ryu karate federation and school. You have written books and articles and have made this kind of martial art popular in all over the world. You provide seminars, summer camps and many other activities. I think this is natural that You have no time to think and to ask question: is this uechi-ryu the same stile which Kanbun use to teach?
I think there is only a shadow of real uechi-ryu. What I see in your video, even the best masters hardly can implement their movements and technic in real fighting. So there is the source of such discussions.
You George have written that karate teacher must know karate very well if he wants to be good teacher. Because every karate teacher must be able to demonstrate program requirements. I think, that karate teacher must be able not only to demonstrate program requirements but also to have capacity to guide his students. He must to know how to guide and teach his students and this is great art.
Best regards.
V.R. Macius.
vmacius@freemail.lt
UECHI-RYU IN REAL FIGHTING
We can have many discussions on this topic, but we all want to know how can we attain ability of effective self-defense, using "classical" karate movements. I think, that most of people who come to karate schools want attain ability of self defense and only after few years training they are going to take part in sport competitions. But most of them don't know how real fighting looks, because training in dojo with sparing partners and according rules, that eliminate dangerous kicks and punches is very different from real fighting where you are in very dangerous situation without any rules and referee. I think that aim of karate training is going to change after long years training, when student understands that the most important thing in martial art is physical and spiritual development.
First and most important requirement of martial art is to be good will person. Than inner being will be in balance and student is able to study martial art. About this topic we can speak very much and this is even separate topic. This inner attitude usually comes to students after long years training. In the beginning it looks like paradox. Why students who wants to be karate man has to be good will person. But it looks like paradox only in the beginning. Long history of martial art proves this thing. Martial arts have been created by Buddhist monks and they new that most important thing. I repeat that this is one of great martial art secrets and there are few very important secrets in martial art.
Many karate students and teachers fell, that they are not satisfied of their karate training. I think that what they need is very close. Slight change in your karate activity can bring you what you need.
Dear George, you have written in your letter to me in 1977 year, that I have to make my training according your book "The Way of Karate" and that I have to go my way and look not only what is written but to think about things that are not written directly. Long years karate in our country was forbidden, there was no any competition. Our aim of training was self-defense in real situations. We trained very hard because we new that each lesson (training) can be the last one.
Our country gained independence in 1991, since that year my work have become teaching of Lithuanian president bodyguards. Here I was able to implement all my experience and knowledge. I tried to create teaching system and to apply uechi-ryu in real situations. Mr. Van Cann in his article "self defense in reality" have written that very often man in real situation experience shock, and fear do not let him to use his skill of self-defense. I think that if during long years training movements are established in students sub consciousness there is probability that body will make self-defense movements automatically. To gain such self- defense reflexes there are training methods.
Those training methods include not only training of movements but also inner attitude that is very important in training process. Those training methods have been verified in practice. And again there is a question why karate students even after long years training hesitate about their ability of self-defense in real situation? The answer can be that during training process students want to gain belts as soon as possible, so they are in hurry and they miss very important steps and afterwards they are not able to go further. They miss fundamental things from very beginning!
Everybody knows that if little child cannot stand is to early for him try to run. First and very important thing is to learn stances and students have to start from "Zenkucu", "Kokucu", "Kiba" and only after they can to learn "Sanchin". If students start learning from "Sanchin" they will have problems in real fighting. Training with jars is good for nothing. Stances in karate is wide topic, I would like to say only one thing, that to learn stances each stance has at least 5 indispensable requirements.
Without such requirements your fighting will be not effective enough. If student is not able to stand properly, he cannot make blocks effectively and in time, so his ability to contraatacking is not good. I have seen many black belt masters who don't implement those 5 requirements and their fighting is not nice and effective enough. When I read articles in your Web site I see that people sometimes hesitate about uechi-ryu school effectiveness.
From my point of view IUKF program little changed can be effective until you reach black belt level. I prefer to be with white belt but to have black belt skill, than to have black belt and to be in white belt level. Certainly you can ask: does our stances and movements are not good, does our punches and kicks are not correct? I can answer: your stances and movements are good inside uechi-ryu school and tournaments but not fit in real fighting. If you want effectively fight in real situations you have to change your movements, particularly stances and blocking movements trajectory. After long years monitoring by special equipments I see that speed of blocks and other movements depends on right trajectory and only a little of physical strength.
More important is capacity to be relaxed during fighting and to have right trajectory of all movements. There are special methodic to gain such condition. Using these methods after long years training when practitioner becomes older his motions becomes more and more fast and old age doesn't matter. Energy "CHI" starts to move in your body and helps you to be stronger even faster then many young people. I am older than 60 years, but my movements are much more faster than 30 years before.
To gain such condition there is indispensable to use proper breathing. Breathing which usually they use in "Sanchin" is not good. This breathing is good in case if you want to develop strong punch only. We use a little changed "Buteikos" breathing. In real situation assault usually is very fast and unexpected, when men stand "normally" without preparation, not in stances but like you stand normally with hands down. The best body reaction in this situation is step back in to "Stance" and block, after contraatacking.
In higher level blocking and contraatacking goes in the same time. There is no time for jumping like in tournaments. So again and again I repeat that the most important thing is proper movements because attack is usually not one punch or kick but punches and kicks that goes one after another very fast and often happens that you are against few assaulters. To attain required condition students have to study many years. First time I have heard about karate in 1964, and since that time have passed 40 years. Those 40 years of searching and hard training gave me more than I expected at the beginning.
I would like to say few words about katas. They are indispensable part of training. First of all students have to learn "FORM" and only when they can perform movements properly possible to learn speed of movements to learn strength and etc. For example "Kanshiva" kata student have to study at least one year. Kata is main defense and attack movements. When You learn kata, you actually learn main blocks and punches, contraatacks and hidden fighting combinations. When student learn kata in subconsciousness he writes right trajectory movements. Only in this case your kata learning will be useful in reality. Kata is good only in case if katas movements are completed properly.
I remember that You George have written, that "Sanchin" kata has come from Bodhitharma times. This thing have inspired me for new quest and I thing that there is different "Sanchin" kata performance, application and different breathing from performance I see in IUKF. This different performance has no bad results to your body. I am writing about our school uechi-ryu main rules and guides, because I want to say, that we didn't change classical movements, but on the contrary we do classical movements.
From my point of view now in many schools those classical movements are performed in wrong way and lost true meaning which new pioneers of martial art many centuries ago. This is the main thing why arose discussion who are stronger "classicals" or "realists". I am convinced that TRUE "classicals" are the best "realists". In old times when katas have been created there was now tournaments and sport karate. Everybody has studied katas to gain ability of self-defense, not to gain belts and ranks; so all "classics" were real fighters. I would like to know your point of view about this topic.
Best regards.
Sensei V.R. Macius. vmacius@freemail.lt
---
Does one need to cross train to be a well rounded martial artist?
Article submitted by Terrance Paul, for his Sandan test requirement.
There is an old saying that when two fighters of equal skill compete against each other, it is the stronger fighter who will win the fight. In my years of training, and watching other people train and compete, I believe that a martial artist does need to cross train in order to continue to improve or maintain his/her skill level.
One of the things neglected in the traditional Uechi Ryu training is the cardiovascular conditioning. Some students may mention that they receive cardiovascular condition doing the katas, bunkais, kumites, and sparring. If the student desires to jump up to the next level in his/her training then I would recommend running and/or jumping rope. The student doesn't need to run five miles or more but only needs a two or three miles at a good pace to improve his/her cardiovascular system. And, if the student prefers to jump rope then it would be ten or twenty minutes of jumping. The student will gradually notice the difference in his/her training sessions, and with time be able to give a hundred percent in training.
Another aspect of cross training is training with weights. The martial art doesn't have to life like a power lifter or train like a professional bodybuilder. The martial arts will need to assess his/her physique and determine what body part needs to improve. The best results are a basic weight lifting routine that will improve the strength in the chest, shoulders, back, arms, abs, and legs. A typically routine is preformed three times per week using weights that allow to 10 to 20 reps. In a matter of weeks the martial arts will notice the improvement in his/her punches and kicks. In addition there is some muscular endurance gained from low weights and high reps.
One last thing in cross training is flexibility. When you start a flexibility routine and your body has reached a comfortable degree of flexibility, then you'll notice an improvement in the delivery of your kicks and punches. Flexibility is not just doing the splits but also includes your shoulders, lower legs and the trunk of your body. In the morning, a student should develop a program that would incorporate dynamic flexibility training using the arms, shoulders, trunk of the body, and legs. Then during the evening after workout out at the dojo, or even at home, you should go into passive stretching because your muscles are more relaxed and easy to stretch. Flexibility doesn't come over night or next week but it comes with time and practice. With increase flexibility the student will notice an increase muscular relaxing, which translates into more speed in the punches and kicks.
If the student explores these different avenues of training, the student will progress in his/her Uechi Ryu training, and reach higher levels that may not have been possible before. The side benefit to this is a the student will reduce the risk of injury and a healthy student is a happy student.
---
Recommended Seminar
The Uechi Ryu Karate Academy
Invites you to attend Three Conflicts Seminar
Taught by Master John Carria (7th Degree Black Belt, Okinawan Uechi Style Karate)
If you have never been to one of Master Carrias' energetic seminars, then you are in for a treat. Be prepared for more than a lecture, this is a hands-on seminar!
This program is for serious Okinawan Karate practitioners of all ages, that are interested in getting a new view on old kata, kumite and bunkai.
Program: " Energetic Workout " Knowing Yourself, Your Abilities and Limitations " Okinawan Body Conditioning Methods " Training Plans & Concepts " Health and Nutrition
Where: Oaks Fire Company 260 Greentree Road Oaks, Pennsylvania 19456
When: Saturday, 4 June 2005 from 11:30 to 3:30 PM
Cost: $20/Student - $35/ Family (Register before 27 May) $30/Student - $45/ Family (After 27 May or at the door)

This is an ALL BELT and STYLES Seminar
For more Information, please contact:
Sensei Stephen Drehobl at 610-454-1230 Or email DrehoblSensei@Yahoo.com
The Instructor - John Manuel Carria, Jr.
"My philosophy is that karate is a test of endurance, of pushing yourself to the limits of your ability. If you can do this in karate, you can certainly do the same in life."
In October 1969, John Carria began studying karate in Providence, Rhode Island. He attained his Shodan (1st degree black belt) in 1973, and upon graduation from college, served as an instructor at the Providence dojo. He attained the rank of Nidan (2nd degree black belt) in 1975.
In 1976, Master Carria joined the Marine Corps, and requested to be transferred to Okinawa and studied karate under Master Kanei Uechi. He was promoted first to Sandan and later to Yondan (3rd and 4th degree black belts) by Master Uechi, who also awarded him a teaching certificate. While in Okinawa, Master Carria became involved in other aspects of the islands' culture. He studied the language for two years, and attained the rank of Sankyu (brown belt) in Japanese calligraphy with Master Ryuko Tomoyose (the past President of the Okinawan Karate-Do Association).
After returning from Okinawa, Master Carria served as Chief Karate Instructor at the Quantico Marine Corps Base for three years. During this time, he also received a graduate degree from Central Michigan University.
In 1983, he resigned his Marine Corps commission to pursue a career in the public sector and reside permanently in Woodbridge with his family. He has studied with Master James Thompson since 1979 and attained his Kyoshi (7th degree black belt) rank. During the past 35 years, he has taught classes and seminars for several other systems as well as Uechi Ryu in both the US and overseas.
---
Dear Sensei Mattson,
In some old films of master uechi we see him doing several double thrusts and then clenching fists while in seeing younger students we see this only done twice with the final thrusts and opening to sanchin arm positions,palm down.
Why are there differences between the old films and what we now see?
Thanks,Allan Tuttle
Hi Allan:
I was told that the formal sanchin kata has three double thrusts and don't clench your fists on the last thrust.
The only time I ever saw Uechi sensei do more was in that film, where he was a little nervous and did four. He laughed about it later.
In books we use a set number of steps in sanchin, but in practice we add more, in no particular formula.
Hope this helps.
============================
Dear Sensei Mattson,
It does help and thank you. Also why was there so much variation with the futenma dojo kata's and what we are taught. I can see there was discussion as to the differences in technique from father and son. The videos are a great reference, and it is amazing as to the differences in style of kata .
And again thank you, your experience is priceless.
Regards, Allan
Hi Allan:
We spend lots of time discussing these differences. I believe a lot of it is individual "emphasis", rather than actual physical movement differences.
The circle block has an infinite number of acceptable, although at times controversial variations, beginning with the arm movements and then adding body movement to the arm movements. I've discussed many times why Uechi sensei created the "wall" drill, which essentially was to stop the students from doing what he considered to be a bad habit of performing a "flat" circle, diagonal to the body instead of parallel to the body.
Small differences which create lots of confusion among teachers and of course students. The system was much simpler in 1958 than now. Today we have modern science and elements of many outside "eclectic" systems being added to the ever complex formula.
I try to explain the system from a perspective of learning stages. Naturally the applications and understanding becomes more "natural" and more "individual" with time, experience and that ever changing body conditioning/dynamics.
Of course if it were easier, I'd be out of a job! :)
Best,
George
---
Subject: pan-gai-noon
hello, how r u?
I have a question about the history of Master Kanbun Uechi. Where did the practice of the Tiger, Dragon Cobra forms come from in China and why do I have a hard time finding any links or information about the history of Uechi Ryu?

Thank you!!!!!
James

Lots of information on Uechi-ryu on my website, http://uechi-ryu.com . Have you visited the forums and performed a search of any kind?
Check the "articles" section and the "store" for a ton of reference work.
Best,
George
---
New Uechi-ryu Forum Rules
New Uechi-ryu Forum Rules (Draft 05-22-05B)
Section I. Uechi-ryu Forum Code of Conduct (CC1-CC14)
CC1. Remain courteous at all times.
CC2. Keep in mind that truth is relative, depending on perspective.
CC3. Maintain an open mind.
CC4. Choose words carefully. Regrets should be offered when warranted.
CC5. Do not belittle anyone for any reason.
CC6. Do not criticize another style/art.
CC7. When disagreeing with an issue, substantiate the disagreement with scholarly evidence or information based on rational reasoning based on personal experience.
CC8. When expressing an opinion, offer information in support of that opinion.
CC9. Members will make all efforts to keep this forum "flame-proof."
CC10. If you would like to have a personal discussion, please do so without posting it to the group.
CC11. When an individual feels offended, send a message back to the offender only. Maintain courtesy. It may have been just a misunderstanding.
CC12. When anyone detects that a posting may have been offensive, send a message to the poster. The person may not have realized that the post was offensive.
CC13. Carefully follow the paramount rule of Jeffersonian Debate: Grant your opponent respect and give him/her the benefit of the doubt. This means you must allow that he or she can examine the facts and come to a different conclusion from you. This is harder than it sounds, particularly for those who view disagreement as a personal affront. Persons who hold such views cannot engage in fruitful debate. Remember it's a debate, not a war. Absolutely avoid escalating to a higher level of unfriendly conflict.
CC14. Avoid online uncooperative and disrespectful behavior directed at a moderator or the site owner (e.g. in debate or possibly regarding a previous judgment of a moderator or the site owner).
Section II. Uechi-ryu Forum Disciplinary Guidelines for Posters (GP1-GP7)
GP1. If a forum moderator determines that a poster has violated one or more of CC1-CC14 in Section I, he/she may give the poster a warning or delete the post or ban the poster depending on the severity of the violation, and this judgment is completely up to the discretion of the moderator of the forum.
GP2. A poster may be asked to edit a post or it may be determined that the post is a severe enough violation that it must be (and is) deleted immediately.
GP3. A request to edit a post may or may not constitute a warning depending on the nature of the post.
GP4. The deletion of a post will constitute an automatic warning.
GP5. Generally, a poster will receive two warnings before being banned, and the third warning will constitute an automatic banning from the forum. However, it is possible that the violation is so severe that it constitutes an automatic banning.
GP6. Generally, the length of the first banning will be two weeks, the length of the second banning will be one month, and the third banning will be for life. However, it is possible that the violation is so severe that it constitutes an automatic banning for life.
GP7. These rules and guidelines will be applied and enforced by each forum moderator (possibly in consultation with the site arbitrator or the site owner) according to his/her good judgment, which will be final in all cases. This means that a violator that receives a disciplinary action (e.g. a warning, request to edit, deletion of a post, or banning) should not attempt to debate his/her disciplinary status. Since it is not possible to specify in advance the exact consequences of every type of violation, the judgments of the moderators and the site owner will constitute the precise definition of the standards of conduct for this site. So, please pay close attention to the leadership, their requests, and advice on what constitutes acceptable conduct.
Section III. Uechi-ryu Forum Disciplinary Guidelines for Site Administrators (GA1-GA7)
GA1. All forum members, including moderators and the site owner, are responsible to personally model and uphold the forum code of conduct in Section I. (CC1-CC14) according to the disciplinary guidelines in this section and in Section II (GP1-GP7).
GA2. On each individual forum the disciplinary guidelines in Section II will be applied according to the discretion and good judgment of the forum moderator.
GA3. If any forum member has a question regarding a possible violation on a given forum by another poster (not a moderator of any forum), this question should be directed to the forum moderator in a private message, who will then (possibly in consultation with the arbitrator) make a judgment regarding whether or not there is a violation and/or what disciplinary action should be taken, if any.
GA4. If a forum member has a question regarding a possible violation on a given forum by a forum moderator (either within his/her own forum or when posting on another forum) or the site owner, this question should be directed to the site arbitrator in a private message, who will then (possibly in consultation with the site owner, if the question concerns a moderator) make a judgment whether or not there is a violation and/or what disciplinary action should be taken, if any.
GA5. In the event that a thread on a given forum becomes too volatile, it is the responsibility of the forum moderator and the site arbitrator to close the thread and re-post it on the Verbal Self-Defense (VSD) forum. Once on the VSD forum, if the site arbitrator determines at some point that the thread is irretrievably in violation of the code of conduct or has run its course in terms of productive contribution, the thread will be permanently closed.
GA6. Any other circumstance that may occur will be evaluated on a case-by-case basis, and any other questions that may arise should be directed to the site arbitrator in a private message. In addition, these guidelines are a work in progress, and will be subject to appropriate change at anytime.
GA7. The site owner reserves the right to terminate and replace any moderator (including the site arbitrator), if he determines that this moderator is not executing his/her forum responsibilities in an effective and appropriate manner.
---
Instruction Available!
Dear Friend´s:
For the sport karate seminars intended for children & young´s, in New England; this include the new Training European System four tournaments.Programs seminars in its dojo, ask for dates between june 15 to august 20, for more information contact us : iukf_argentina@yahoo.com.ar
Sensei Carlos Ciriza 6° Dan Renshi Rokudan
IUKF ARGENTINA
VISITE : www.geocities.com/iukf_argentina2005
http://usuarios.lycos.es/iakko
www,geocities.com/uechiryuargentina

I highly recommend Carlos's seminars. He is one of the best coaches I've ever encountered. GEM
---
Whats Happening with Old Friends!
KICK-START HOPE FOR DYING JAPANESE ART
By Clare Wall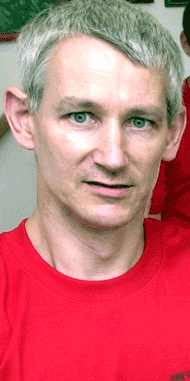 AN Island martial arts expert completed a round-the-Island walk to raise money for a trip to Japan, which might save a traditional form of karate. Simon Lailey, 44, of Mary Rose Avenue, Wootton, tackled the anti-clockwise 75-mile course in 15 hours 40 minutes and raised £300 for a field trip to Okinawa in July. There he will research and practise uechi-ryu karate-do with Gordi Seizan Breyette, a ninth dan in the art.
They will be trained by Gordi's tutor, Toyama Seiko Sensei, a tenth degree black belt and the only living link to Mr Lailey's original tutor, Guo Kong Xi. Uechi-ryu karate-do originated in China and incorporates meditation and Chinese medicine. Books have incorrectly recorded the practices of uechi-ryu karate-do and it is Mr Lailey's mission to ensure it does not die out with its masters. "There are very few masters left and most of them are very old now. When they die, they take so much with them and, if the books have wrongly recorded the art of karate, its traditional form will die out.
My trip to Japan could re-write history." Mr Lailey is the chief instructor of the Wight Wushuguan, the Island's first full-time martial arts training and research academy. On his return, he will write a series of essays on his experiences and the history of uechi-ryu karate-do and hopes to write a book and hold lectures. 12 May 2005
Many people have asked me "What happened to Simon?" Well, now we know. I believe the rank of Gordi sensei is a "typo", but the rest of the article is quite good. GEM
NOTE: Breyette Sensei sent me the following, which clarifies the "typo" remark by me:
The article in your June mailbag about Simon was sent to me a few times with questions, yes there are some typos and misinformation, among them my surprise 9th Dan promotion...! But then we're all familiar with the "literary license" that reporters take. Much more interesting to sensationalize; it sells more papers and attracts more readers. The story simply warped the neatly-typed information that Simon gave the reporter. Also, I am not the only person Simon will be meeting here; he has several people to meet and interview. The visit with the Zankai is one of a number. He has a lot of research and fact-gathering to do in a very short time, and several teachers of various systems are happy to help.
---
Thoughts to Remember!
Happy National Friendship Week.
Many people will walk in and out of your life. But only true friends will leave footprints in your heart.
To handle yourself, use your head; To handle others, use your heart.
Anger is only one letter short of danger.
If someone betrays you once, it is his fault;
If he betrays you twice, it is your fault.
Great minds discuss ideas;
Average minds discuss events;
Small minds discuss people.
He, who loses money, loses much;
He, who loses a friend, loses much more; He, who loses faith, loses all.
Beautiful young people are accidents of nature, "lbut beautiful old people are works of art.
Learn from the mistakes of others.

You can't live long enough to make them all yourself.
Friends, you and me .... You brought another friend ...............
And then there were 3 .... We started our group ....

Our circle of friends .... There is no beginning or end ....

Yesterday is history. Tomorrow is mystery. Today is a gift. Author unknown
A Friend is. . .
A friend is someone who knows the song in your heart and can sing it back to you when you have forgotten the words.
A good exercise for the heart is to bend down and help another up.
Friends are like four leaf clovers, hard to find, lucky to have.
If all my friends jumped off a cliff, I wouldn't jump with them. I would be at the bottom to catch them.
Thanks for being my friend! You're great!