---
Passing of a Warrior:
February 15, 2005: Al Moulton - - - Suffers fatal heart attack!
I received a call this morning from Chong, Al's wife, informing me of his death. Until the end, Al continued to post on these forums.
His last email to me was February 2nd:

Dear George:
The latest news isn't so good, George. Actually considering the alternative, maybe it is.
A week ago Thursday I was rushed to the hospital with chest pains ala 911. Spent the weekend there. Beat the Grim Reaper again. Today, received results of the tests. I have permanent damage to the ole ticker. I guess dieting and exercise sometimes don't make any difference. I'm going out for Pork Ribs and beer tonight, F'k 'em all.
cya.
Allen
Al was a very proud person. He didn't complain, even though he lived his last twenty years of his life (following a serious accident) in constant pain. He was a tireless advocate for Uechi-ryu and participated in as many activities, tournaments and classes as possible.
Al is best known for writing a number of excellent Uechi-ryu text books and for his contributions to these forums.
Because of his illness, Al was unable to work for the past year. They didn't have insurance and his health problems drained all savings. Although she didn't ask, I believe she would appreciate any financial help the Uechi community could provide. Please send any donations to:
Chong Moulton
45830 High Way to Heaven Lane
Great Mills, Maryland 20634
Thanks
_________________
GEM
---
News From Okinawa. . .
Sensei Mattson,
Wish you have settle with housing ordeal. Well, my housing ordeal is coming around the middle of March. The day my household good will is delivered to Okinawa. Anyway, we are now settling at temporary lodging now.
I was awfully wonder when the mail bag will be updated. I understand that you were moving to Florida and real busy to move one state to the other (especially North to down South). Your mail bag is one of my reading pleasure and connection to Uechi-Ryu study. Since I am in Okinawa, I could be a bridge to US and Okinawa. Okinawa people resent that be called Japanese! As a matter of fact, the last correspondence in October publication, Mr. Jack Scarborough was requesting Master Shinjo Kiyohide's address. I can assist on this!
Sincerely,
Scott (Tsukasa).Higa, PE
PS. I will drive up there and find the address for your next correspondence to Mr. Scaborough. You know how close from Kadena Air Force base to the Kadena Dojo to so called Kadena rotary (I wonder you still remembered his dojo is in the Kadena Circle!).

---
Sensei Mattson,
This is the latest update on Shinjo dojo in Okinawa. I took a little trip to see sensei Kiyohide Shinjo~. To my surprise, his dojo has moved to North West about 3 miles from present site! There is no sign of Sensei Shinjo's Dojo in the Kadena circle, but the gravel on the ground. You have to go to Northwest \/\/\/\/\/\/\/\/~/\/\/~ (it meant to express snake road!) for 15 minutes -if you can find it! Well, anyway I will give you his phone number and Phone No. Address: 119-2 Toguchi, Yomitan-Son Okinawa, Japan 904-0315; Phone No: 098-957-1537(home);090-3792-0949 (Cell phone). It is not easy to find for American who is used to find the business establishment in the narrow road. If someone wish to visit his dojo, I don't mind to tell direction or take there if you are in Okinawa or you are visiting soon.
Ciao!
Scott HigaF
---
Sanchin Breathing. . .
Sensei Mattson...I'm new to goju ryu. Does Uechi ryu teach Sanchin kata with open hands and relaxed breathing? I find that when I do the kata open handed, contrary to goju's closed hands, my hands are much heavier and stronger when the kata is complete. I know you are a busy man...but I ask you because you are the MAN. Due to age considerations, I may pursue a different avenue in karate and Uechi ryu looks very interesting. Thank you, sir for any time you could give to this message. Respectfully...Dennis McCole
Hi Dennis:
Thanks for writing and asking about such an interesting subject. I'm 67 and still very active with my Uechi-ryu. The nice thing about Uechi, is that it can be done by people of all ages and strength. According to the historians, Miagi, Chojin modified the kata into a "breathing exercise". I've also tried doing the Uechi sanchin in this manner and found it "unnatural" and difficult. However, many students of goju like it that way and claim they derive strength from performing it with the "heavy" breathing and closed fist.
Probably best to experiment with both and decide which direction to travel after determining which style is best for you.
Our Forums, especially Bill Glasheen's, has discussed this subject before and I know if you post your question there, you will get lots more expert opinions from both camps.
Stay in touch and good luck.
George Mattson
---
Hi George, happy new year hope you and Susan and Tia are well..
THought you might enjoy this article for EA website???
Best,
Ethan
Ethan B. Miller

Learning From the Masters, Part 1. Efficiency in Individual Training
The annual Summer Camp on Cape Cod hosted by George Mattson-Sensei has been an excellent way to gain knowledge from the masters -- of various martial arts. However since I believe in the necessity of training alone for a good portion of your training time how do you maximize the benefits of these types of events? How do you distill this information to suit your needs and how do you maintain it? Or should you just hang by the pool and soak it in?
My goal here is to give a few tips from my experience that might benefit other students.

Those with a busy schedule, those with pressures of a constant nature or an uneven nature should appreciate this information. The minimum time for working out on a daily basis is 20 minutes and this is more a technical workout than a cardiovascular workout, that still means that you must be doing your Uechi kata and propelling yourself through space. The maximum time should be about an hour, this is on a daily basis, remember.

The idea is to develop a baseline workout that you can maintain, though in an hour timeframe you can do some more rigorous working out.
One of the things I picked up from "The Hut" training in Newton is how inbetween the kata training different drills were interspersed. Rarely, when I was at the hut did we go from one kata to the next in a straight progression. For my individual training I miniaturized this idea for a shortened excersise increment. This idea also grew from the necessity to regain the focus to do a kata. My solution came from the need to steady my mind. After completing a kata I would bow and begin walking in a circle roughly the circumference of the space I filled doing the kata. As I regained my focus I moved on to the next kata. Occaisionally, while walking in a circle I would switch my feet and head in the other direction. I made sure to try and let my thoughts go. As I got more comfortable doing this I would concentrate on my feet more and getting in a good stance while walking. I had been doing some reading on other styles and the philosophy behind some of the circular styles of asian martial arts. I wasn't quite sure where it was going but the ongoing movement while resting was interesting.
Then I got worried about something else. Lots of my Uechi brothers and Sisters and members of my Martial Arts family were doing weapons training. How was I going to keep pace, while maintaining a busy schedule of non-training type events? I had (have) to work for a living.
My solution was remembering one of the favorite instructors at the summer camp. Jim Maloney-Sensei. Maloney-Sensei does an annual pressure point seminar which leaves the student speechless. The knife training portion, attacks and disarms, takedowns come-alongs are not to be missed. I hope he teaches forever.
After six or seven summer camps and a basic certification in the pressure point course and review of the knive attack and defense on tape. I wondered how I could stay sharp on this set of drills. Much like my kata, and other skill sets -- I hate to lose things that I have taken the time to memorize. So, I purchased a wood Tanto and tucked it into my waistband and proceeded to add the seven cuts of the set to my walking in a circle. Then I would swap the knive over to my other hand and do the same set again. Then I would proceed to the next kata after replacing the knive in my waistband. Eventually, I would add all the knive defenses to walking in a circle. I don't kid myself that I would be able to match any of Maloney-Sensei's regular students but this addition to my workout has proven to help my stability, and even my running.
---
WinterFest, 2005:
George,
It was truly an honor and priviledge to attend winterfest. It was probably one of the best experiences I have ever had. I cannot wait to share what I have learned with my dojo. Thank you so much for everything.
I'll see you with my son at summerfest !!!
Mary Janson
---

Hi George:
Happy Holiday to you and Susan. How is the move going, are you all set in your new digs? I will be attending the Winter Fest on the Friday seminar date. If there is anything I can help with please let me know. Look forward to seeing you take care.
Jon Cierri
Good to see you at WinterFest Jon. Sorry that more Floridians couldn't make it. GEM
---
Hi Sensei,

Thank you very much for the reply and best of luck with your new house. My Sensei is Frank Gorman from Clearwater, FL (formerly of Rhode Island and MA) and I have also studied with his friend Walter Mattson in Framingham, MA for about a year while I was doing some work for Dupont in Boston. I liked your area of the Northeast but I do not care much for your winters. I think you will find that acclimatizing to Orlando will take about 30 seconds. That's about 10 seconds longer than it took me when I moved here from NJ. The older I get the more I appreciate the sun and mild weather. I will be looking forward to the WinterFest and have a great Holidays.

Bob Mascharka

---
Scotland Seminar. . .
Hello George,
if anyone happens to be in the vicinity of Arran (Scotland) at the end of July they are welcome to attend our open gasshuku. Details attached. It's not quite free but the cost is only £5.00 (say $7.50) for 3 days training, so not massively commercial!
Harry Cook
TRIP TO ISLE OF ARRAN
WEEKEND OF
29TH/30TH/31ST JULY/1ST/2ND AUGUST 2005
ACCOMMODATION ARRANGEMENTS & COST
FERRY
Caledonian Macbrayne Ltd.
Tel: (0990) 650000
Fax: (01475) 650100
CAMPSITE
Kildonan Camp Site Tel: (01770) 820320 (Sylvia)
Campsite tents only @ £5.00 per person per night
DORMITORIES/HOTEL
Kildonan Hotel
Tel: (01770) 820207 (Anne)
Tel: (0141) 7799250 (Anne alternative number)
Dormitories only @ £10.00 per person per night
Double rooms from £20.00 per room per night
QUERIES
Brian Turner Tel: (01434) 220497
---
BOOKING FORM
NAME............................................................... GRADE...........................................................
ADDRESS......................................................................................................................................
CLUB.......................................................... LICENCE No……………………..
TEL NUMBER.................................................... (For insurance cover)
FEE TO COVER COST OF HALL HIRE AND INCIDENTAL EXPENSES
I enclose my fee of £5.00 (made payable to RBKAZAN) to book my place on the course.
Signed......................................................................
---
Looking for dojo. . .
Hello Mr. Mattson,
i am inquiring about a reputable school in the NOrth of Boston area for studying Uechi Ryu.
My father ,Salvatore Misuraca, studied under you and Mr Bob Campbell in boston years ago and i feel the need and calling to now follow in his footsteps. any guidance would be greatly appreciated. i live on the new hampshire border.
thanks
sincerely
Marc Misuraca
Check the dojo/instructor listing Marc. Please give Sal my very best regards and ask him to join the gang at the "Hut" on Saturdays. GEM
---

Dear Mr. Mattson,

Years ago, I was a student of Duane Lucia's at his dojo in Boston. I loved Uechi Ryu and would like to find a dojo that teaches this style for my young daughter. Are you aware of any in Fairfield County, CT (I live in Stamford, CT near Greenwich, CT and Norwalk, CT).
Any help would be most appreciated,

Sincerely,
Kathy Weiss Beurer

---
Book Reviews. . .
REVIEW APPEARS IN: Journal of Asian Martial Arts, Volume 14 Number 1, page 85
Karate: A Master's Secret of Uechi-Ryu — Instructor's Guide/Student's Manual by Ihor Rymaruk Amsterdam, NY: Iron Arm International, 2004, 578pp., 7.5" x10" illustrated (paperback) $45.00 -------------------- Available from: Iron Arm International c/o Ihor Rymaruk 25 McClellan Ave., Amsterdam, NY 12010-3424 Tel: 518.842.9299; E-mail: IronArm1@aol.com; www.uechiryu-karate.com
Karate practitioners, and Uechi-ryu stylists in particular, will find a complete and thorough presentation of the Uechi-ryu system in Ihor Rymaruk's martial tome. Rymaruk's work is a pragmatic and candid technical presentation of what students in this discipline can expect in their training up to an advanced level.
The book's layout provides amply spaced text and generous technical photo displays reducing the feel of the book's thickness. The photos and text are clearly laid out making it an easy and open read.
Rymaruk, a master teacher and lifetime Uechi-ryu practitioner, provides a clearly written and informative overview of Uechi-ryu's history, distinctive stylistic qualities, and foundational techniques. Additional supplementary materials include self-defense applications against both firearms and edged-weapons attacks. Historical and archival photos of Okinawan teachers, geography, and local culture punctuate the work.
A great deal of attention is given to Uechi-ryu's unique open-hand strike and block formations and, in particular, the circling blocks of one of Okinawa's oldest forms, the Sanchin kata. Rymaruk presents all the essential technical and conceptual building blocks of Sanchin—the first and most significant form in the Uechi system. Goju-ryu, Isshin-ryu, and Shorin-ryu proponents should note the variations.
Rymaruk is clear to state that his work is "a discussion and exposition of technique," accumulated over his nearly forty years of training experience. He avoids philosophical speculations, instead concentrating upon Uechi's practical nature: what works and how to achieve that goal. There are few works in English regarding Uechi-ryu karate outside of George Mattson's classic book Uechiryu Karate Do (1974), and Alan Dollar's Secrets of Uechi Ryu Karate and the Mysteries of Okinawa (1996) that cover this breadth of technique.
The book contains some superfluous testimonials by students—plus sections on training women and children and resource information on martial arts and criminal law—giving the work its personalized air as a student manual for Rymaruk's association. Nevertheless, practitioners of any martial art will find technical gems, whether it be in the broad coverage of basic conditioning exercises, the unique hand formations and toe kicks, the pre-arranged sparring (yakusoku kumite) sets, or simply Rymaruk's straightforward philosophy.
Though this book may appear an overwhelming manual to a beginning Uechi-ryu student, it offers invaluable insight into the discipline and will no doubt become a historical landmark for both the preservation and the evolution of the Okinawan martial disciplines.
REVIEWED BY: Christopher Goedeke, B.S. Fairfield University
Congratulations Ihor. Great review! GEM
---
Jeet Kune Do anyone??
Hi Sensei,
Hope things are going well for you. I have a question. I am 52 years old and have been training since 1973. I am certified in Jeet Kune Do and Filipino Martial Arts under Paul Vunak, and Muay Thai under Suwat Sidthilaw of Thailand.
I was wondering if you may know anyone who would be interested in adding a Filipino Weapons program to their curriculum. I will come to their school, give them private lessons and then do a seminar for them. We are mobile, so my wife and I would come around about every three months to keep them ahead of their students. Some instructors have had me come in and teach them and their assistant instructors, then we do a one or two day seminar for the rest. I will work it out anyway they want to do it. My rates are very reasonable, and I offer total support by phone or email for everyone. I realize this is probably something you wouldn't know without asking around. But, if you get any interest feel free to give them my email address.
Also, I have an article coming out in an upcoming issue of Inside Kung Fu Magazine, and I am releasing a DVD on how to develop hand speed in the next couple of weeks. Thanks a lot and I look forward to hearing from you.
Yours in the Tao,
Sifu Rick Caudle
www.geocities.com/tnjkd
---
Uechi Championship eGroup Membership. . .
My name is Bruce Hamilton. I have the rank of shodan.I am trying to gain as much information on uechi-ryu because i am going to open my own dojo in Fredericton.I want to be in the loop.
Welcome to the "Officials" e-group Bruce. Stay in touch. GEM
---
GEM Newsletter Feedback. . .
Nice to see the comments re Gushi sensei. I trained with him in California a couple of years back. I really liked his unpretentious direct approach to training, just like Morio Higaonna sensei. This kind of simplicity is refreshing and it would be nice to se more of it.
Yours,
Harry Cook
---
Thanks for the newsletter and I hope you like Florida. Joshua is in Melborne at FIT, and he says there is too much sun! My to infrequent trips to Massachusetts to visit the Hut just won't be the same. As a long time motorcycle rider, Harley owner and HOG member I really liked your comments on observing the Drill Team. It really is difficult, and requires a great deal of skill. The best make it look very easy. (sound familiar?)
I know what you mean about how intimidating some of those guys can look. Sometimes I forget how I might appear to the "general public" when I am in full leathers, steel towed boots, etc.
Good to hear from you, hope you and Sue have a merry Christmas, and maybe I'll see you at Daytona some spring!
Still working out as often as possible in Collegeville, though it is difficult with my current work schedule. Steve's students are coming along very nicely, which is great to see!
Andrew Peterson
---
From: jon jackson
If you ever get a HOG, I would love to ride with you. Just read your article. My name is Jon Jackson and I work in Lakeland (Not far from Orlando) and train under Frank Gorman. I studied in my earlier years in Providence under Charles Earle, and years later am back training religiously again. I guess it never gets out of your blood. My best friend is Scott Higa who you had at your bootcamp recently. He just left for Okinawa to work there. Anyway, welcome to sunny Florida (not the past couple of days though....COLD!!!), Jon Jackson
PS....I just bought a HD FatBoy (100 yr. edition)....Picture attached....Love it.....
Beautiful bike Jon. My friend Al Moulton bought one just like it and brought it over for me to see a couple months ago.
Hope to see you and some of your fellow students at WinterFest in February. Hoping to attract some of the Harley/Uechi people to the event. Even a couple of Massachusetts riders are planning to come. (If weather permits) Stay in touch.
Best,
George
---
Happy New Year George Sensei... and to Susan and Tia too!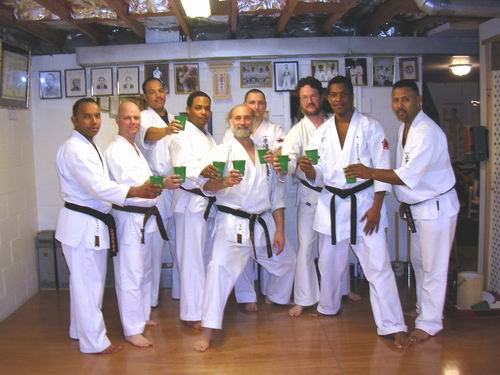 Sounds like quite an adventure you all had. Having been through some scary family moves (bad weather, overturned moving vans, demolished goods etc.) I can sympathize! I wish you all luck in your new digs and I hope the locals there come to appreciate the treasure which has just moved into their back yard.
I'm sure they will. Attached is a picture from tonight's black & brown belt workout held once a month in my dojo here in Gaithersburg or my senior student Stanley Crump's (2nd from right) dojo an hour away away in Ellicott City, MD. Tonight was in Gaithersburg with a special awemori New Year's toast at the end.. I hope that Greg Postal can visit more frequently as well; although he's understandably very busy with med school and teaching on base. Be well and happy and thanks for keeping me in the loop.
Rik Lostritto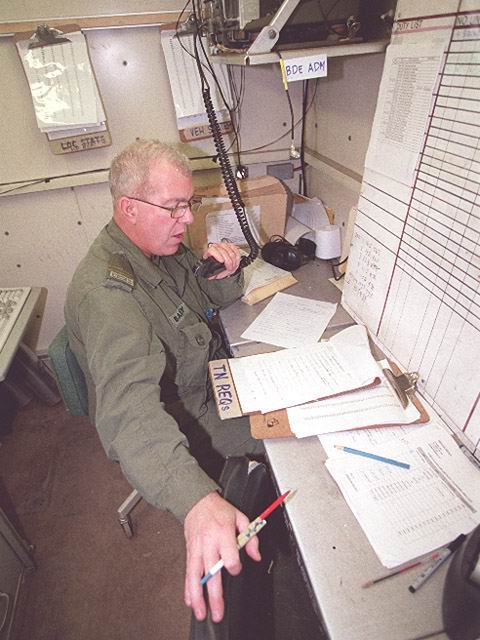 The Canadian Military Update. . .
Thought you all might get a kick out of these. The were taken at ARCON 02 and ARCON 04 in Gagetown.

Cheers

Brian Bailey
---
Old Friends. . .
Dear George,

Just a quick e-mail - I should be doing my Tax books instead...
I am still in Mallorca. I spent an interesting weekend as guest on Pat McCarthy in Amsterdam. Pat very honest and good fun.. . .. Playing with the karate boys in the seminar was good fun and I did not feel out of my depth at all - but we were doing basic hand drills a lot. I wish I could say the same for my trapping / locking / Chi Na skills which are non existant.
We are now 7 people here training, and sometimes other teachers come to stay for a few days to see what I do ( basics as always I am afraid!! ). This basics emphasis probably started with your old book all those years ago so I just blame you.
The seminar with Jim Hulse at the club I know went very well. I saw some videos and was very impressed with him. I took a crane push hands session with the club at Xmass and the black belts gave me a Shodan Ho ( I think it is honorary ) and then we consumed Haku Tsuru Saki together. This was very nice - I think the higher belts had just got tired of me coming in my white one for the last 10 years, but I will keep the lovely black belt for my dressing gown here and still wear the white one out and about.
I have another baby on the way, and am back to China in a couple of months before my wings get clipped again.
Anyway, I Hope you and your family are well,
Best Wishes,
Martin Watts
( from Bournemouth )
Martin has also been seen on Rik Wilson's Forum... GEM
---
New Friends. . .
hi my name is josh martin. ive been taking uechi ryu for 2 years. I am a white belt with a 6' green stripe. My sensei is Bill Mckeljohn. ( i dont know how to spell his last name) he is a 4th degree. I am going to keep at this karate till the day i die. I just wanted to get that out in the air.
---
Sensei:
I just "eulogized" your moving to Florida on the Ultimate Black Belt Test web site: www.ultimateblackbelttest.com
Go the homepage and click on "Journals". If you have a had time finding the link, I've included the text below.
Thank you for being such a positive influence over the years and—of course—for your consiste