"Reality" check from George Mattson's "Swamp" dojo!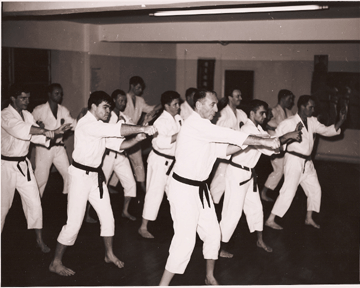 I'm going to tackle a subject that I've covered many times in the past.  Although most of my students and many of my associates clearly understand my position on the subject, others continue to hammer away blissfully, shadowboxing with words and rallying enthusiastically against a foe that only exists in their minds.
What exactly is the problem that eats away at them so that at every opportunity they must spend so much time ranting on and on and on how the traditional Uechi dojo are corrupting the minds and bodies of their students with excessive, obsolete and harmful drills, exercises, kata (that they don't like) and how dojo that actually have students are endangering these students' lives by teaching Uechi-ryu in a manner that these "guardians" of the "correct" system dislike!
Uechi-ryu, like most sports has evolved since the early 1900s. What sport hasn't? Unlike other sports, Uechi-ryu was a very effective system of self defense instead of a competitive activity. It was also based on ancient Chinese folk-art that purported to pass on to the student other benefits:
1.        Was a healthful activity
2.       Came with a moral code of ethics and conduct
3.       Was not something to be taught to bullies or criminals.
4.       Was to be used only in self-defense
5.       Was to be transmitted in a careful manner as to not hurt students
6.       Was not to be misused in a boastful manner (Don't "showoff")
When Kanei Uechi agreed to let Tomoyose Sensei teach me Uechi-ryu, he made me promise to introduce Uechi-ryu to people outside of Okinawa and to teach it as I learned it.
I interpreted this promise to mean teaching the system's core values, since Uechi Sensei added material to the basic system and in subsequent visits to Okinawa, I came to realized that the system was quite adaptable to fit the needs of changing times, environments and individuals. Unlike my early attempts to make every student a carbon copy of me, I realized that teaching Uechi-ryu was itself an art. . . being able to adapt a physical art to fulfill the requirements of as many people as possible. . . not just those who had my stamina, build, abilities and motivation. With the new tools of the art that I picked up on subsequent trips, I was able to create a program that worked for nearly everyone who shared a commonality of incentive for seeking out my dojo and wanting to learn karate.