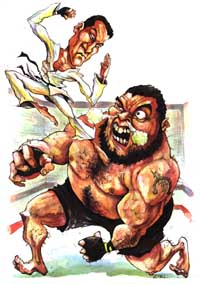 So You Wanna be a "Real" fighter!
OK. . . in my last editorial, I shocked many by stating "if you really want to learn how to fight, I don't recommend that you try to accomplish it at a Uechi dojo or any other martial art dojo!"
So, if you want to be a fighter and you are willing to put the time into this effort, what is my recommendation?
1. First I believe you should get into superb physical condition. You may as well begin to accomplish your goal of becoming a fighter at the same time. . . my recommendation is that you empty your bank account and say goodby to your family for a couple years. . . then sign-on in one of the many legitimate training camps where UFC champions train.