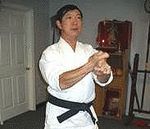 Darin Yee, an IUKF board member is willing to teach seminars in all IUKF dojos upon request and if time is available.  They need to call or email Darin to arrange a date and time.
This is a fantastic opportunity to train with one a senior Uechi instructor who has an extensive Chinese Martial Art background and more importantly, able and willing to help Uechi practitioners understand how our art relates to its Chinese heritage and the many different systems Uechi-ryu is derived from.
A most interesting and educational experience.
Darin is one of the senior presentors at this year's SummerFest. Don't miss working with him. Best,
George E. Mattson
---