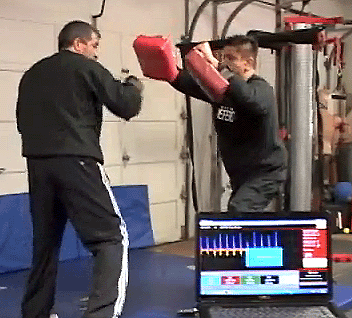 This year's SummerFest participants and teachers had an opportunity to test their punches and kicks on the new "Herman" impact training tool! The "reader" (handheld visual device or wireless computer program) can easily program any number of workouts – or as in  the SummerFest event, we simply created a challenge where competitors performed two kicks and two punches – and the reader provides important feedback on individual techniques and cumulative power recorded from the four techniques.
The program records names, weight, height and age of each competitor in this challenge, along with individual PSI scores of techniques and the total score of all four techniques. In the SummerFest challenge, we attached the impact sensor to the back of "Bob's" head to record PSI of the kicks and punches. (But the sensors can be attached to heavy bags or any other impact training device.)
The program is amazingly accurate and provided lots of information about how powerful your techniques really are. Of course in the dojo, I'm now using "Herman" to challenge my students in various ways, using different programs that are included in the program. The kids absolutely love the verbal feedback the program gives at various intervals and they look forward to improving their scores at our monthly testing sessions.
You can now order the "Herman" kit from the secure Uechi-ryu.com store. Get yours today (at the discounted store price) and add valuable "feedback" to your training!